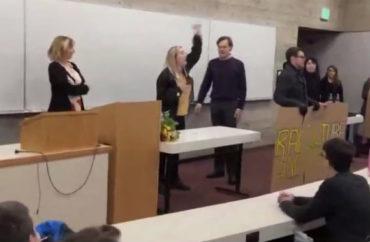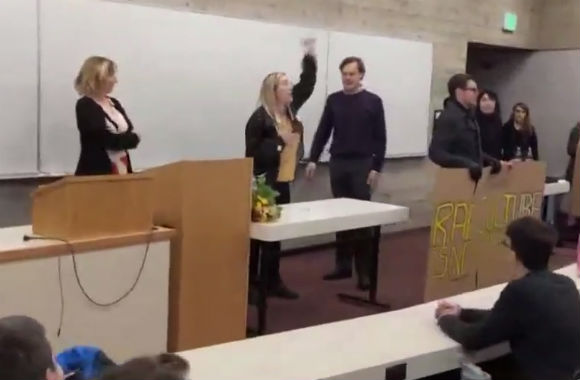 It's been another banner year for leftists who refuse to allow free speech on campus. It's their way, or the highway. Who are the real fascists?
Below are just 11 examples from the 2017-18 school year. And there's no end in sight.
September 2017
Milo Yiannopoulos shouted down at UC Berkeley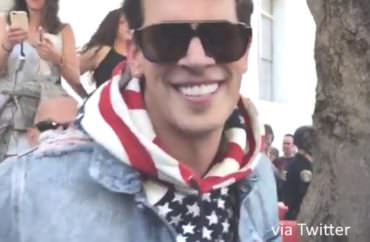 Despite the cancellation of UC Berkeley's highly anticipated Free Speech Week, provocateur Milo Yiannopoulos still made good on his promise to appear at the public university, giving a short speech in front of a mix of fans and demonstrators. The very few people who heard the speech stated it was short-lived due to protesters who shouted him down.
October 2017
Student protesters shut down University of Oregon president's speech to 'stand against fascism'
A few dozen student protesters brought a laundry list of complaints when they blocked University of Oregon President Michael Schill from giving his State of the University speech, but unsurprisingly, it all boiled down to "fascism and neo-Nazis." The Daily Emerald reports they rushed the stage before Schill could even start, chanted that the white leader was a "CEO" and the public university "a business firm," and won the day when the administration canceled the speech and left.
October 2017
'Liberalism is white supremacy': Black Lives Matter protesters shut down ACLU free speech event
At the College of William & Mary, Black Lives Matter protesters crashed the stage of an event titled "Students and the First Amendment" less than five minutes after the entrance of Virginia Claire Guthrie Gastañaga, executive director of the ACLU's Virginia affiliate and an alumna, The Flat Hat reports. They not only chanted to prevent her from speaking, but they were offered the microphone to read from their statement, and then they drowned out students who tried to speak to Gastañaga after the aborted event.
October 2017
VIDEO: Protesters shut down UCLA event on 'civil discourse' and 'hate speech'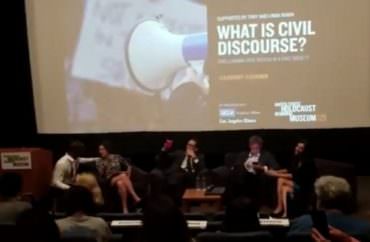 Anti-fascist agitators successfully disrupted and effectively shut down a panel discussion at UCLA focused on civil discourse after hijacking the question and answer portion of the event and forcing it to relocate. Panel members told The College Fix they were "appalled" and disappointed over the protest at the event, titled "What Is Civil Discourse? Challenging Hate Speech in a Free Society."
October 2017
Charles Murray event disrupted by chanting, hostile protesters
Activists at the University of Michigan disrupted a talk by Charles Murray on that campus last night, needling the political scientist with heckling and stunts and accusing him of being an "irrelevant" racist. Protesters used "chants, music, intentionally annoying cell phone sounds, an overhead projector displaying an arrow pointing to him along with the words 'white supremacist,' and hostile questions" to throw off the speaking event.
October 2017
Professors demand firing of UC-Berkeley professor who served Bush, crash his speech
University of California-Berkeley Law Prof. John Yoo was speaking to the American Political Science Association yesterday when protesters disrupted a panel where he was speaking and held up signs demanding his firing. Yoo served in President George W. Bush's Justice Department, authoring legal memoranda known as "torture memos" for their interpretation of the Geneva Convention with regard to prisoners held at Guantanamo Bay. The protesters went beyond holding signs in the back of the room: Tweeted photos and video show they stood up throughout the room and turned their backs when Yoo spoke.
October 2017
Protesters disrupt anti-immigration speech by Tommy Robinson at Columbia
Student protesters continuously disrupted a Skype-delivered speech by Tommy Robinson, founder of the anti-Islam English Defence League, at Columbia University. "Robinson was meant to give a speech denouncing mass immigration in Europe, but was unable to speak over the protesters in the room, who shouted questions and responses to his statements," the Spectator reports. Columbia officials refuse to punish students for shouting down the speaker, invited by the College Republicans.
November 2017
Conservative speaker shouted down, arrested during 'It is OK to Be White' event at UConn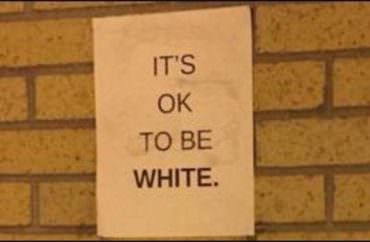 At the University of Connecticut students shouted down a conservative speaker invited to campus to give a talk titled "It is OK to Be White." The event ended after the speaker, Lucian Wintrich, was arrested and escorted out of the auditorium. Video from the event, organized by the public university's College Republicans, shows Wintrich, a White House correspondent for the conservative website The Gateway Pundit, attempting to give his speech as audience members heckled him. State officials eventually dropped the breach of peace case against Wintrich.
February 2018
Protesters attack sound system but fail to shut down event with fired Google engineer
This was a shout down using electronic warfare. Protesters didn't want the audience to hear any more of James Damore's views on gender and career pursuits, so they pulled the plug on him – literally. But aside from a 10-minute outage to the sound system and police pulling aside a protester, the event at Portland State University with the fired engineer behind the so-called Google memo went smoothly.
March 2018
Protesters disrupt Christina Hoff Sommers speech
At Lewis & Clark Law School, demonstrators hijacked Christina Hoff Sommers' speech. Student protesters repeatedly disrupted the event with chants, singing, verbal interruptions and stage-squatting, led by a white woman in a "Stay Woke" jacket.
April 2018
Duke student protesters interrupt school president's speech
Protesters at Duke University crashed President Vincent Price's address to alumni to demand, "institutional change in labor practices and student support, among other areas." With shouts of "President Price get off the stage" and "Whose University? Our University," the demonstrators invoked the school's 1968 "Silent Vigil" which followed the assassination of Martin Luther King Jr. They were eventually booed off stage.
Like The College Fix on Facebook / Follow us on Twitter