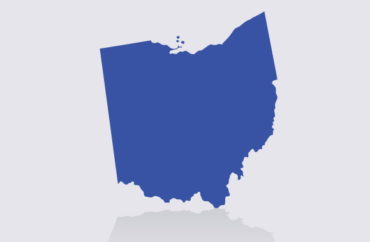 Only 17 percent of contributions to remaining presidential candidates go to Donald Trump
Ohio may be a swing state in the upcoming 2020 election, but the state's college faculty members overwhelmingly have their minds made up.
Over 92 percent of college faculty members at Ohio's 11 largest universities who donated to political candidates gave to Democrats, according to a College Fix review of Federal Elections Commission data collected from employees who named their employer. The data include lecturers, faculty, professors, administrators, librarians and other employees.
During the 2020 presidential election cycle, Ohio college faculty members donated over $939,400 to candidates for federal office, $868,000 of which went to Democrats.
Of the $168,000 in total contributions to the two major presidential candidates, 83 percent was donated to Democrat Joe Biden and 17 percent was donated to Republican Donald Trump.
The state's largest school, Ohio State University, was responsible for $461,000, or 49 percent, of the total amount contributed to federal candidates.
At OSU, 93 percent of total faculty contributions were given to Democrats, and 90 percent of contributions made to presidential candidates were sent to Biden.
The only school at which Trump outraised Biden was Youngstown State, where Trump raised $2,315 to Biden's $785. The only other school where the ratio was close was Kent State University, where Biden outraised Trump $10,439 to $7,261.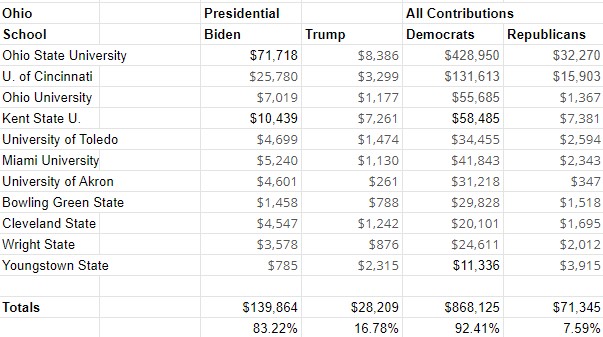 At every other school, contributions to Biden were between 64 percent and 95 percent of the total given.
In some cases, Trump was still being outraised by Democrats who exited the race in early spring. At the University of Cincinnati, for example, Trump has raised $3,300. Yet he lags behind Bernie Sanders ($24,300), Elizabeth Warren ($18,840), Pete Buttigieg ($7,173) and Andrew Yang ($5,562).
At both Cincinnati and Ohio State, Trump is being outraised by Amy McGrath, a Democrat running against Republican Senate Majority Leader Mitch McConnell in neighboring Kentucky.
At the University of Akron, where 99 percent of all federal donations have gone to Democrats, Trump is being outraised by Democrat Mark Kelly, who is running to defeat incumbent Republican Senator Martha McSally in Arizona.
According to a Real Clear Politics average of presidential polls, Trump currently leads Biden in Ohio by a slim 48 percent to 46.5 percent margin. In 2016, Trump won Ohio by 8.1 percentage points.
In February, a College Fix analysis of faculty contributions from Big Ten Conference schools found that Democrats had collected 99 percent of all the money raised. That number included all the Democratic candidates still in the race.
The FEC numbers reviewed by The Fix were updated on September 8, 2020. The 2020 election cycle began on January 1, 2019.
MORE: Sanders, Warren dominate campus fundraising in battleground states
IMAGE: Ohio Explore and Record / Shutterstock
Like The College Fix on Facebook / Follow us on Twitter