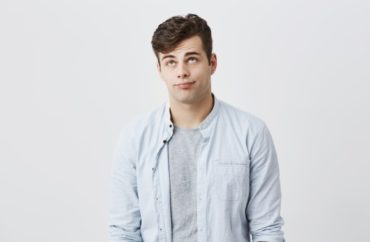 Well, not really.
However, a pair of contemporary college students certainly thought so, and their words show that in the "fundamental clash of philosophies," the modern view is one of retribution.
Colleges' obsession with concepts like "whiteness," "white supremacy," and "white privilege" isn't about any sort of reconciliation. It's about getting even — and then subjugating. Because power dynamics, history, and politics, you see.
Also: Shut up!
Dickinson College's Leda Fisher is prime example of this obsession. In a Dickinsonian op-ed, she ponders whether white males should even be allowed to speak:
When you ask a question at a lecture, is it secretly just your opinion ending with the phrase "do you agree?" If so, your name is something like Jake, or Chad, or Alex, and you were taught that your voice is the most important in every room. Somewhere along your academic journey, you decided your search for intellectual validation was more important than the actual exchange of information. Now how do you expect to actually learn anything? …

I am so g****mned tired of listening to white boys. I cannot describe to you how frustrating it is to be forced to listen to a white boy explain his take on the Black experience in the Obama-era. …

So, should white boys still be allowed to share their "opinions"? Should we be forced to listen? In honor of Black History Month, I'm gonna go with a hell no. Go find someone whose perspective has been buried or ignored and listen to them, raise up their voice. To all the Chrises, Ryans, Olivers, and Seans out there, I encourage you to critically examine where your viewpoints come from, read a text that challenges you without looking for reasons to dismiss it, and maybe try listening from now on.
It goes without saying, natch, that if a white guy (or girl) derisively mocked black or Hispanic names as Fisher does with white ones, they'd be tossed out on their $65,000-private college-tuition-paying asses.
And if they weren't, imagine what their lives would be like around campus: subjected to endless screaming, yelling, and fist-shaking protests.
MORE: Prof who wrote 'Three Cheers for White Men' defamed as a violent 'alt-right'
Meanwhile, over at Yale, Isis Davis-Marks begins her column thusly:
"Everyone knows a white boy with shiny brown hair and a saccharine smile that conceals his great ambitions. He could be in Grand Strategy or the Yale Political Union. Maybe he's the editor-in-chief of the News. He takes his classes. He networks. And, when it comes time for graduation, he wins all the awards."
Davis-Marks is capitalizing on the news cycle surrounding the political chaos in Virginia … not-so-ironically without mentioning any of the participants. (One might ponder whether this is because they're all Democrats; such a guess is granted validity due to the author's mention of Yalies Brett Kavanaugh, Dick Cheney, and George W. Bush.)
Davis-Marks says she wants to take advantage when a "white boy" suffers a momentary lapse of attention — in order to ruin his future:
When I'm watching the white boy — who is now a white man by this point — on CNN, I'll remember a racist remark that he said, an unintentional utterance that he made when he had one drink too many at a frat party during sophomore year. I'll recall a message that he accidentally left open on a computer when he forgot to log out of iMessage, where he likened a woman's body to a particularly large animal. I'll kick myself for forgetting to screenshot the evidence.
As I previously wrote, the good news about the Fishers and Davis-Markses around us is that, for right now, their drivel is coming from an insulated (and pricey) academic bubble. Not to mention, at times it makes them look daft enough that "gimmes" in politics become anything but (see: election 2016).
The bad news is that more and more students are being exposed to this garbage every day, and under the guise of "academics."
It's little wonder present-day professors chide concepts like MLK's vision of color-blindness because such removes their grievance-infested convictions and allows for racial harmony.
MORE: White men can't be oppressed — no matter what
IMAGE: CookieStudio / Shutterstock.com
Like The College Fix on Facebook / Follow us on Twitter