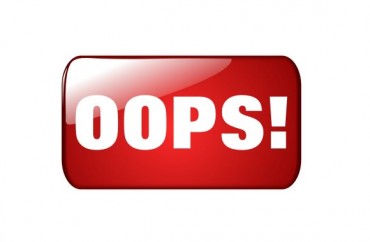 In case you missed it, there's been a concerted virtue signaling effort at college campuses which involves ferreting out offensive images from decades-old school yearbooks.
A couple of weeks ago, College Fix student reporter Zach Petrizzo noted the happenings at over a dozen campuses; one of them, the student paper at American University, encountered a bit of a bump in the road.
The Eagle's intrepid reporters discovered a whopping four images of blackface in past yearbooks between the years 1929 and 1998, while AU officials noted a total of 15 "images of concern."
"The images we have found require more than discovery, transparency, and apology; they deserve candid acknowledgement and action," Provost Daniel Myers and Vice President of Campus Life and Inclusive Excellence Fanta Aw said.
However, The Eagle ended up retracted two of the images it had originally published due to complaints from a couple of fraternities. It said the photos "could not be proven to be racist."
Members of Phi Sigma Kappa had informed the Eagle that in one of the photos, a fraternity member in a Native headdress, the subject was part Cherokee Indian. In the other, the depiction of "a hanging effigy" actually showed "a medieval execution."
Additionally, Edward Gaylord, the president of AU's chapter of Alpha Sigma Phi, contacted The Eagle and asked that a photograph of their members in blackface be removed from the article "as the photos removed for PSK were no less controversial than [their] own."

Gaylord stated that he and his fraternity was prepared to file a defamation suit against The Eagle if the photo was not removed (Gaylord said the fraternity no longer plans to do so). In a statement, Gaylord acknowledged that the photo featured "members of our chapter from the 1950s wearing what appears to be blackface."

"We condemn all uses of blackface; a despicable practice which has no place at our university and in our organization," Gaylord said. "We reaffirm our commitment to ensuring all cultures and identities are respected in the realm of our traditions and activities as a fraternity."

Gaylord added that bigotry and intolerance have no place in their chapter and the fraternity does not discriminate against age, ethnicity, religious affiliation, sexual orientation or nationality.
But The Eagle had to show they meant well, so they went all the way to the University of Connecticut to ask a sociology prof for assistance:
"[Fraternities] are some of the most segregated spaces in America today," Matthew Hughey said. "They behave as a networking and social vehicle because they're based on exclusion. So, whoever gets in then gets access to resources, and that access helps to reproduce white dominance on campus."
MORE: More than a dozen universities now face blackface yearbook controversies
MORE: GWU president, yearbook staff denounce past 'blackface,' KKK images
IMAGE: Shutterstock.com
Like The College Fix on Facebook / Follow us on Twitter