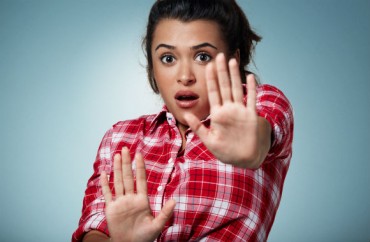 Oakland University in Michigan is encouraging its students to wear BioButtons in order to keep track of potential symptoms of COVID-19.
At first, the request was framed in some written material from the university as a requirement, but the university clarified the policy after students objected and a petition titled "Make the BioButton Optional for Staff and Students at Oakland University" drew nearly 2,500 signatures.
The coin-sized BioButton is worn to monitor temperature, respiratory rate and resting heart rate through a smartphone app, according to the company. The button will notify the user, through the use of an algorithm, whether or not he or she is well enough to attend classes in-person.
Students now have the option of either answering health screening questions to clear them for class, or they can wear the button, which the university will provide free of charge.
"If [students] cannot show their 'cleared' status, they cannot come to class," Oakland University Vice President for Research David Stone told The College Fix via email.
"If they choose not to wear the button, they will need to answer a set of health screening questions through a university system that result in the same notification from the university as to whether they are cleared or not cleared to come to campus," he said.
If one searches "BioButton" on the university website, they will find an out-dated "Return to Campus" page, which 404s, meaning it no longer exists. However, the preview text reads "Residents in residence halls must wear a BioButton."

Students had serious concerns about the university knowing their personal health stats.
"I definitely feel like it's an invasion of privacy," incoming freshman Cayla Stus told The College Fix. "I understand the reasoning behind getting tested for the virus and I am all for that, but having to wear something that monitors information like my heart and respiratory rate and sleep activity just seems like too much."
Stus also told The Fix that she does not plan to wear a BioButton.
She and many others signed a Change.org petition calling for the buttons to be optional.
"A large portion of students feel that this [is a] violation of their privacy and some students have stated that their rejections of this idea come from a religious basis," wrote Tyler Dixon, the petition's creator. "Moreover, the new idea (evidently a large adjustment) was not mentioned but instead put further into the website for individuals to stumble across."
The university had never issued a formal notification to students about the BioButton. Instead, the topic was "buried," as one signer put it, in a larger email about general new guidelines.
"I did not consent to this when I signed my housing contract," wrote Reese Petruska, another signer. "This should have been clearly stated before contracts were locked, and should have been clearly outlined in any and all emails sent to residents."
The petition finished with 2,480 signatures.
In a report in the university's student newspaper on August 7 headlined "BioButtons become optional after public outcry," Stone said the button has no GPS tracking abilities, the data collected is only accessible to the user, and all campus officials have access to is a green or red light, based on the users vitals.
Stone reiterated those points in a statement to The College Fix.
"The way our system works, the university does not see any of the student's detailed health data, we only get a daily notification as to whether they are cleared to come to campus (class, practice) or not," he said.
In terms of tracking students, the "Return to Campus" page clarifies, "Importantly, the BioButton does not use GPS or track your location, it only knows whether it is within Bluetooth distance (about 15 feet) from another BioButton."
Stone also said that the BioButtons, which cost about $60, will be provided free of charge to any student who wishes to wear one.
The university's "Return to Campus" page details how the buttons will also aid in its efforts of contact tracing.
"If you are wearing or carrying the BioButton, Graham Health Center will be able to alert you if you came in prolonged (30 minutes or more) contact with someone who was wearing the BioButton and who has tested positive for COVID-19," the page reads.
MORE: University amends invasive COVID form after constitutional rights group intervenes
MORE: UT-Austin threatens punishment for students who host 'parties' amid coronavirus
IMAGE: Avemario / Shutterstock
Like The College Fix on Facebook / Follow us on Twitter