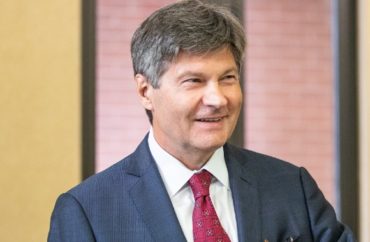 Recently taught a class on First Amendment law
A George Washington University alumnus has donated $4.5 million to create a First Amendment and free speech law professorship.
Bobby Burchfield (pictured), through his family foundation, "has made a landmark gift to highly ranked GW Law to create a new professorship and recruit a nationally-recognized scholar to teach his passion, Free Speech and First Amendment law," the D.C. university announced.
He has served as counsel to Republican presidents and also successfully argued two First Amendment cases in front of the Supreme Court.
"The two First Amendment cases Mr. Burchfield argued before the U.S. Supreme Court—McConnell v. FEC and McCutcheon v. FEC—are considered seminal standards taught today in constitutional law classes," Dean Dayna Matthew stated in the news release.
McConnell is a 2003 SCOTUS case that struck down portions of a campaign finance law.
McCutcheon is a 2014 decision "that struck down the aggregate limits on the amount an individual may contribute during a two-year period to all federal candidates, parties and political action committees combined," according to the Federal Election Commission's summary.
He is a former editor-in-chief of the GW Law Review and taught a course this summer on First Amendment jurisprudence.
His personal website states:
As part of his commitment to Free Speech, during the Spring Semester of 2022 Bobby taught a seminar at The George Washington Law School entitled "Fundamentals of Free Speech as Applied to Contemporary Issues." Bobby created a unique syllabus for the course, collecting and assigning readings from great thinkers and important judicial decisions addressing free speech issues.
"The students report coming away from the course with a better appreciation for the power of free speech," the website states. They also learned about "its central and unique role in the American character, and the difficulty of constructing workable restrictions on categories of speech."
MORE: GW Law professor wants 'lying' made an impeachable offense
IMAGE: George Washington Law School
Like The College Fix on Facebook / Follow us on Twitter