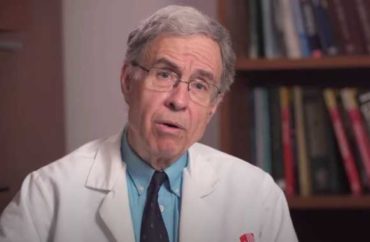 'We are in a very dark episode of medical ethics and medical history'
A medical school professor and surgeon with more than 30 years of experience described transgender surgeries and hormone treatments as violations of medical ethics comparable to eugenics in a recent podcast interview with The Federalist.
"Something I've come to realize with the growth of 'gender-affirming' surgeries and 'gender-affirming' medical care is that we're right in the middle of an extraordinary medical atrocity," Michael Egnor, a pediatric neurosurgeon and professor at the Renaissance School of Medicine at Stony Brook University in New York, told the news outlet.
"I've taught in the ethics course here at Stony Brook," Egnor, who is also residency director at the hospital, told The Federalist. "We teach the students and the young doctors about various ethical atrocities in medical history" such as eugenics, lobotomies for the mentally ill and the Tuskegee Syphilis Study, in which medical treatment was withheld from black research subjects.
"We point out that at the time all these atrocities were widely accepted in the medical community," he said.
"At the end of the course I ask them a fairly obvious question, and that is what are the ethical atrocities that we're doing today? And they just gasp."
Transgender ideology has become mainstream, but silent dissenters should be encouraged
"There's been this enormous growth, this explosion of transgender ideology in the press and in the medical community," Egnor said. "I've had parents come to me in panic asking whether there's anything I can do to help on that."
"Watching the news and knowing that the American Medical Association has endorsed this stuff, and the American Academy of Pediatrics and the American Psychological Association has endorsed this stuff, I really have come to feel over the past year or two that we are in a very dark episode of medical ethics and medical history."
"I want to encourage others in the medical community, many of whom share my viewpoint, to speak out," he said. "If more senior physicians won't stand up and say that this is wrong, then I am ashamed of my profession."
Egnor spoke of the serious risks of drugs and surgery to treat gender dysphoria in young people: "The medical advice [parents and children] are getting regarding these treatments is malpractice. It is, in my view, basically criminal stuff."
"Puberty blockers are very, very powerful medications that have a lot of side effects in themselves," he said.
"There are institutions in this country now that are performing mastectomies on children. There are institutions that are carrying out hysterectomies and removal of ovaries on adolescent girls. There are institutions that are removing the genitals of adolescent boys."
Egnor described how his interest in medical ethics developed from picking up a book about eugenics several decades prior.
"Reading this book about doctors, every day they would go to work thinking about how they could sterilize people…[it] sickened me," he said. "And the widespread acceptance of eugenics bothered me. And I wondered at the time, what would I have done?"
"The risk I would take if I don't speak up is that I could never look at myself in the mirror again," he said.
Though the American medical establishment continues to endorse surgeries and hormones for gender dysphoric young people, Egnor is not alone among professionals in his reservations. In particular, England's National Health Service recently released draft guidelines that endorse a more cautious and conservative approach.
"The clinical management approach should be open to exploring all developmentally
appropriate options for children and young people who are experiencing gender
incongruence, being mindful that this may be a transient phase, particularly for prepubertal children, and that there will be a range of pathways to support these
children and young people and a range of outcomes," the guidelines state.
MORE: Transgender surgeries 'huge moneymakers,' doctor states in video
IMAGE: Discovery Science/YouTube
Like The College Fix on Facebook / Follow us on Twitter