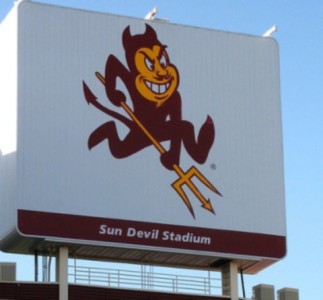 Arizona law requires the names of sexual-assault victims in crime reports to be made public. But Arizona State University refuses to turn over the names of 36 victims in response to a request by the Arizona Republic – or even ask the victims if they'd like to talk to a reporter.
The rationale? It could "trigger" the victims. More likely, it could "trigger" bad PR for ASU if the victims speak.
Media blog Romenesko has the details, which involve a series that reporter Anne Ryman is writing about sexual assault at the school and the criminal-justice process for students who allege they were assaulted.
Gannett, the newspaper owner, and the school have been arguing for four months on what should be a point of settled law:
"[ASU chief media officer Sharon Keeler] stated the names would not be released on grounds that it would have a chilling effect on sexual violence reporting," Gannett attorney Courtney French wrote a letter to ASU's assistant police chief. "While we appreciate ASU's efforts to ensure all incidents of sexual violence on campus are reported and investigated, withholding victims' names is not consistent with Arizona law."

The Arizona Criminal Code, says the newspaper's lawyer, "requires the victim's name to be made public [and] as a result, the ASU PD's redaction of victims' names in this case is unlawful."
In a reply letter, ASU's attorney cites a statute that appears to contradict the school's position:
B. A victim's identifying and locating information that is obtained, compiled or reported by a law enforcement agency or prosecution agency shall be redacted by the originating agency and prosecution agencies from records pertaining to the criminal case involving the victim including discovery disclosed to the defendant.

C. Subsection B does not apply to:

1. The victim's name.
"Identifying and locating information" means date of birth, social security number, ID number such as driver's license, address, phone number, email and place of employment.
It's really hard to see how the school can ignore the plain language of the statute that victims' names are not to be redacted.
ASU says Ryman would be reduced to "cold calling" people whose names match those in the crime reports:
Such an approach is completely contrary to the leading guidance that universities, as well as law enforcement agencies, should be training and using trauma-informed and victim-centered protocols to encourage the reporting of sexual assaults and improve the rate of prosecutions for crimes of sexual violence.
Crying "trigger" is the strongest legal argument ASU's got – it won't even ask victims if they want to talk, Romenesko says:
"[W]e concluded that making such a contact could be a trigger event that is inconsistent with a trauma-informed, victim-centered approach."

The university says reminders of the attack or abuse can cause flashbacks, and "we believe cold calls or emails by a reporter to individuals who might possibly be the correct Jane or John Doe could also be a trigger event."
Ryman has previously reported that ASU settled two lawsuits faulting its handling of sexual-assault allegations – one cost the school $850,000.
It's not the first time the school has made flimsy redaction excuses in response to the paper's requests: It blacked out "concerns expressed by the university's police officers" from the minutes of an "advisory board to the chief of the campus police," according to a September column in the Republic (the paper found out anyway):
They didn't want you to know that the university's main campus was sometimes staffed by only two officers on a shift. (The department's own policy requires four.) They also didn't want you to know that their officers are sometimes unfamiliar with the areas they police during "party patrols" and that they have difficulty communicating with Tempe police officers because they use different equipment.

Harmful information? I don't think so; the specific understaffed shifts weren't revealed. More likely, school officials were embarrassed by the short staffing and lack of training.
Embarrassment seems an accurate guess for why ASU won't release the victims' names – they might trash-talk the school for how it handled their allegations.
Like The College Fix on Facebook / Follow us on Twitter
IMAGE: Alykat/Flickr
Like The College Fix on Facebook / Follow us on Twitter