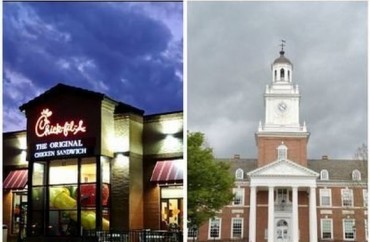 Student petition calls on Johns Hopkins leaders to reject request for Chick-fil-A ban
Chick-fil-A is now the most popular fast food chain in the nation, according to this year's American Customer Satisfaction Index – but the restaurant has declined in popularity among some Johns Hopkins University students who recently declared its presence on campus a "microaggression" against the LGBTQ community.
The school's Student Government Association passed a resolution this spring that called on administrators to put to a halt any discussions or plans to bring a Chick-fil-A to campus, citing the company's support of traditional marriage.
In response, Johns Hopkins University senior Andrew Guernsey initiated a petition in May that asks administration to "reject and repudiate" the student government resolution. The petition had received 64 signatures as of July 8.
"We've been trying to pass the petition around campus on social media," Guernsey said in a telephone interview with The College Fix. "We haven't submitted it to the school yet, but we definitely will by the start of the semester."
The petition is titled "Revoke the JHU SGA's Discriminatory Chick-Fil-A Ban."
"We hope that the administration would issue a statement to defend the right to free speech and religious freedom on campus and not introduce a discriminatory policy that the student government has called for," Guernsey said.
Because Johns Hopkins University has had a contract with Chick-fil-A since 2012 for athletic events on campus, it remains an open question how the administration will respond to the resolution and resulting petition.
There have been no formal conversations between Chick-fil-A and the university regarding future on-campus locations of the restaurant, so the petition does not substantially impact any practical discussions at the moment.
According to Justin Tibbels, staff team leader of Hopkins InterVarsity Christian Fellowship, the group doesn't have a particular stance on the Chick-fil-A debate. Group members fall on both sides of the issue and some have signed Guernsey's petition while others have not.
"Speaking for myself and not for the group, I hope that Hopkins can continue to be a place where civil public discourse can take place," Tibbels told The College Fix in an email. "I hope that this decision doesn't set a trend where student groups are unfairly targeted for holding unpopular opinions, but thus far I have no reason to believe that it will."
Jared Mayer, treasurer for Hopkins Students for Liberty, said that his group supports the gay community and gay marriage but opposes the student government's request for a ban on Chick-fil-A as a restriction on speech.
"Chick-fil-A on campus would not, in any way, effect the rights of gay students on campus," Mayer said in an email. "More to the point, Chick-fil-A's stance against gay marriage, while disagreeable, is a manifestation of free speech. As libertarians, we are unable to restrict speech simply because the company's CEO … opposes gay marriage."
Members of the student government's executive board for 2014-15 declined to comment about the petition in support of Chick-fil-A, and directed The Fix to incoming SGA president, Jason Plush, who also did not respond to a request for comment.
According to Guernsey, the student government has yet to acknowledge the petition.
"If the university remains silent, I think they are lacking in their duty to take a strong stance for freedom—academic thought, freedom of belief and religious freedom on campus," he said.
Like The College Fix on Facebook / Follow us on Twitter
IMAGE: Change.org screenshot