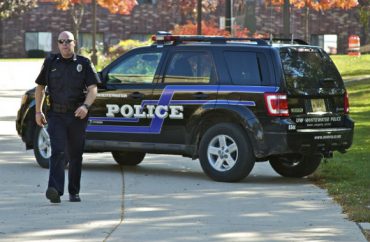 A Philadelphia Black Lives Matter activist has accused a school police officer of assaulting his elementary school-age son over a "routine classroom management issue."
Because his son wouldn't remain seated in art class, Isaac Gardner Sr. says officer Joe O'Malley "dragged [his] son out of the classroom" and into a faculty restroom where he proceeded to toss the boy "on the floor and against the wall" and "hurled insults" at him.
According to Philly.com, Isaac Gardner Jr. was called a "sissy" and was told "f*** your father." Gardner Sr. claims the latter is due to his being "a vocal critic of city police, particularly around the death of David Jones."
The head of the Philly school police officers' union says O'Malley was cleared of wrongdoing by the district and the city Department of Human Services; however, the former is still looking into the matter.
"Any time we get a report like this we treat it very seriously because the safety of our students is always our top priority," [district spokesman H. Lee Whack Jr.] said. "The officer was immediately removed from the school when this was reported and will not be in a school until the investigation is complete."

The case has attracted attention. On Tuesday, the Gardner family was joined by an attorney from the Education Law Center, and representatives from education activist groups, Black Lives Matter and the national civil-rights group the Advancement Project at a news conference to highlight the incident.

Gardner said he planned to sue the school system, but that his larger goal is to let the public know about the potential for harm inside city schools.

"At the end of the day, this can happen to anyone's child," said Gardner, who said he and his wife have been satisfied with their children's education and blame the officer, not the school, for the incident.
There's no indication of just how Mr. Gardner knows what transpired between the officer and his son … which means he's going by what Isaac Jr. told him.
And … 8-year-olds never exaggerate and/or lie, right?
MORE: Drexel prof: School cop should get 'done like Old Yeller'
MORE: Teachers bring 'Black Lives Matter Week of Action' to Philly schools
IMAGE: UWW ResNET/Flickr
Like The College Fix on Facebook / Follow us on Twitter