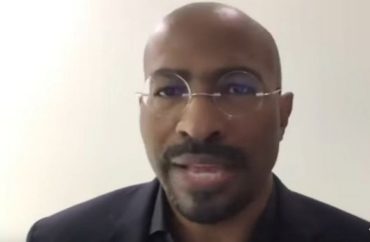 CNN commentator Van Jones took to his network's online op-ed page Friday to discuss racial health disparities associated with  COVID-19, and in the process angered some black scholars.
This is because Jones dared to bring up — as US Surgeon General Jerome Adams did at a recent health briefing — some of the  problematic lifestyle choices of African-Americans.
"Black people need to take more responsibility for our individual health choices," Jones wrote. "[W]e can all vow to eat healthier. Drink more water. Move our bodies. Process emotional pain through therapy, rather than comfort eating or substance abuse. Commit to a spiritual or religious practice. Meditate. Rest. Get more sleep."
Even though Jones also explicitly addressed structural racism in health care, housing, and employment in his piece, there were those who blasted the pundit for parroting a "racist trope" (as noted by NewsOne.com):
Again, @VanJones68 perpetuating the cultural narrative that Black folks are as responsible for their poor health as are systemic factors while research has rigorously shown that poverty and inequality are the main factors leading to racialized health disparities. https://t.co/EfLfx0z6wu

— uché blackstock (@uche_blackstock) April 24, 2020
"Black people need to take more responsibility for our individual health choices." <- This is always the line (better choices). The aim is to chastise Black people, and ultimately to justify the unfair treatment of them. Shame on you @VanJones68 https://t.co/ub1Qirw2NJ

— Melvin Rogers (@MRogers097) April 24, 2020
I'm tired of Van Jones. https://t.co/WdPxTCi4Ve

— Jerry Hawkins (@JerryLEADS) April 24, 2020
"Anti-racist" educator Ibram X. Kendi of American University was a bit more even-handed in his response:
Jones is expressing both antiracist and racist ideas. Let me explain. To claim the choices Black people make are partially responsible for health disparities, for why Black people as a group are more likely to have diseases that make COVID-19 deadly, is to say Black people as a group are making inferior health choices than White people. It is saying if Black people only make as good choices as White people, then Black people would be as healthy as White people. That we can't blame the coronavirus disparities all on racism, we must blame some of it on inferior Black health choices.
Kendi went on to (graciously) note he believes Jones "sincerely wants to help Black people," and that the pundit is "not like those wholly racist Americans attacking him for not wholly pointing to Black behavior as needing to change."
Nevertheless, for Kendi, the problem simply is racism. Any difference in outcomes among racial/ethnic groups, he has said, is proof of it: "Antiracists believe that the racial groups are equal." Any differences among groups "must be the result of [racist] policies. It is that simple."
Read Jones' op-ed and the NewsOne.com article.
MORE: To what extent does racism play a role in the coronavirus pandemic?
MORE: Kendi: 'Internalized racism' once made him blast 'black youth culture'
IMAGE: YouTube / Breakfast Club
Like The College Fix on Facebook / Follow us on Twitter