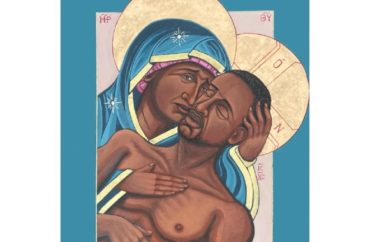 'The purpose of sacred art is not to make a political statement but to promote worship, adoration, and faith'
Catholic University of America's student senate has formally condemned a "blasphemous" and "offensive" painting on campus.
The painting depicts Mary holding her son Jesus, but Christ instead looks like George Floyd. It hangs in two places on campuses but the student senate wants to see it removed.
"A Resolution to Greater Unify the University by Replacing Controversial Icons," passed the Student Government Association last week.
It criticizes President John Garvey to denying that George Floyd is represented in the painting, called "Mama" by non-Catholic artist Kelly Latimore.
The Catholic University of America's Student Government has just passed a resolution calling for the removal of the blasphemous paintings of Christ as George Floyd.

Forever inspired by and proud of young activists who show up, speak out, and deliver results. pic.twitter.com/YKKysKM1e1

— blayne c. (@blayneclegg) December 7, 2021
"The artist has ambiguously admitted that the painting is meant to represent George Floyd as Jesus, but President Garvey has decided to interpret the painting differently," the resolution says.
"This icon is seen as blasphemous, offensive, and at the very least confusing not only to students but many in the general public and only serves to further divide the community," the resolution says.
The student senate resolution also said "[t]he purpose of sacred art is not to make a political statement but to promote worship, adoration, and faith 'in the transcendent mystery of God,'" quoting the Catechism of the Catholic Church.
University officials should remove "all paintings titled 'Mama' from all University buildings."
The SGA said the school should instead pursue constructive conversations with the local African-American community and identify appropriate artistic representations.
"There are few representations of the African American community in theological artforms on our campus currently and the University could increase and amplify those voices in a way that is consistent with the University's mission," the student government said.
"There are other paintings and icons that do a much better job at making a genuine, good faith effort to reflect the universality of the Catholic Church that also do not divide and confuse the University and larger Catholic community," the senators said.
MORE: MIT priest forced out for citing Floyd's rap sheet
IMAGE: Kelly Latimore Icons
Like The College Fix on Facebook / Follow us on Twitter