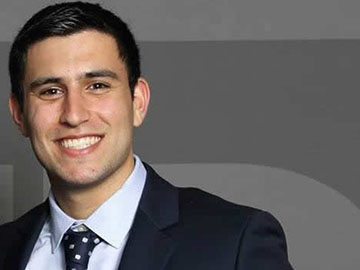 If you read his letter to the editor of the Wall Street Journal carefully, you'll notice that Brandeis University President Frederick Lawrence is giving his peers a primer on how to squelch student speech without explicitly punishing it.
Brandeis got some harsh publicity this weekend when student activist Daniel Mael, well known to College Fix readers for his regular run-ins with campus progressives, told the Journal about his yearlong "harassment" saga with the administration:
In fall 2013, a public dispute about Israel broke out between Mr. Mael and Eli Philip, another Brandeis student and a leader of the campus affiliate of J Street, an advocacy outfit that describes itself as "pro-Israel, pro-peace." In the course of the debate Mr. Philip's feelings were hurt—"then all hell broke loose," Mr. Mael says. The result was a yearlong disciplinary saga that would threaten his future.

Yet unlike many students in this situation, Mr. Mael fought back, eventually retaining top-shelf legal counsel. The legal record generated by the case, now exclusively obtained by the Journal, shines a rare light on the hidden realm of campus discipline.
President Lawrence scolds the Journal columnist for "several breathtaking mischaracterizations":
Code-of-conduct cases are typically brought by students, not the university. During my tenure, no student has been sanctioned for exercising their free-speech rights, regardless of the topic or perspective. And though we explore a variety of issues through the code-of-conduct process, the standards for a harassment finding are high.
While he dwells on the school's important relationship to the Jewish community – Mael was investigated for an argument about Palestine, after all – Lawrence either misses the point or hides it, as the Foundation for Individual Rights in Education says:
Lawrence did not deny that Mael was involved in some sort of disciplinary process stemming from remarks made to another student regarding the situation in the Middle East … But one doesn't need to actually punish students for their speech in order to harm freedom of speech—all that is required is a credible threat of punishment if you want to chill speech on campus. Summoning a student to the Dean's office because he said something rude in the course of a political discussion is antithetical to the fundamental purpose of a university. A commitment to free speech that doesn't include ideas you might wish not to hear is meaningless.
The legal record and interview with Mael is illuminating: After a meeting a year ago where he was given a copy of the student handbook and told his antagonist "was considering certain actions," nothing happened until October, when Mael was summoned again and told he had 48 hours to respond to claims of "bullying, harassment and religious discrimination" – and he couldn't have a copy of the complaint.
He could have been expelled. Good thing he hired a lawyer.
Read the Journal column and Lawrence's rebuttal.
Like The College Fix on Facebook / Follow us on Twitter
IMAGE: Daniel Mael