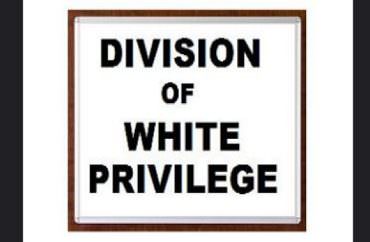 Administrators at schools in British Columbia, Canada have become "woke" and started a poster campaign in their buildings to combat that nasty 'ol white privilege.
However, these "anointed" individuals did not count on the reaction from the "benighted" — a.k.a students' parents.
According to CBC News, parent Kansas Field Allen asked her son to snap photos of the posters — which he did — and she put them up on social media.
"I'd say 95 per cent of the people are in favour of having the posters taken down, and that's from all races," Field Allen said. Many of the comments on her Facebook post blasted the poster effort.
Another parental beef is that the project was never communicated to parents.
Superintendent Teresa Downs of School District 74 said the venture is "trying to acknowledge that racism does exist and that some people, as a result of racism, are disadvantaged." Downs's personal poster states (without a sense of irony) "I have unfairly benefitted from the colour of my skin. White privilege is not acceptable."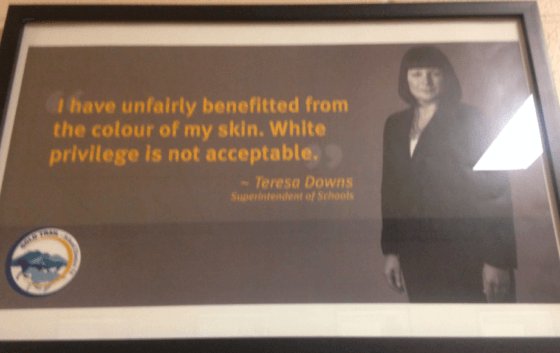 Downs said teaching students about racism and privilege is nothing new in the district — educators have been teaching kids about it for years.

"The dialogue is certainly not new in Gold Trail, The posters are what's new."

Field Allen said part of her concern is having to explain what these posters mean to her two grandchildren, who both attend school in the district.

"You and I can talk as adults about these posters, but what do you say to a first-grader?," she said.

Downs believes young students are entirely capable of learning about these societal issues.

"I think children have incredible capacity to observe and learn about the world around them," she said.

B.C. Minister of Education Rob Fleming said B.C. students learn about discrimination and racism from an early age.

"Anti-racism has been a strong component in our curriculum in every school district in B.C. and should be," he said.
Every principal in Downs's district put up a personal poster akin to the superintendent's, along with more generic placards such as "Got Privilege?" and "I cannot be blind to the invisible system of privilege I am a part of."
MORE: Move over 'white privilege' — now there's 'centrist privilege'
MORE: In white privilege discussion, Caucasians can't ask black students questions
IMAGES: Mike Licht/Flickr, Facebook
Like The College Fix on Facebook / Follow us on Twitter