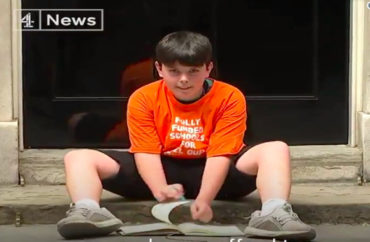 A British Labour Party MP (Member of Parliament) dropped her 10-year-old son off at the prime minister's residence to protest the official school week being trimmed by half a day.
Jess Phillips' son attends a school affected by education cuts, in this case a half-day Friday making for a four and a half-day school week. In protest, Phillips left her son and three friends at the 10 Downing Street doorstep to "symbolise the government's responsibility to educate the nation's children on a Friday afternoon."
Phillips told Sky News that "Today, like every Friday afternoon from now on, my son will no longer be able to go to school because austerity measures over years and years have degraded school budgets.
"I'm going to sit him on the front of the Downing Street steps and he's going to do some homework there because it its their responsibility to be looking after and educating our children for five days a week."
If @jessphillips spent less time promoting her brand with self-aggrandising publicity stunts like this, and more time promoting Labour's popular policies, her son's school would be open on Fridays because Labour would have won the 2017 GE. Just a thought. pic.twitter.com/qh7JRYMqkh

— Chuka Umunna's Flip Flops (@WarmongerHodges) July 6, 2019
Based on her son's expression in the video above, does anyone believe he's actually doing his homework?
Though Phillips complains about class size increases and cuts in the number of teachers and facilities, the reporter in the video points out that schools in Phillips' district receive above-average funding, and that many claim the problems are due to mismanagement at the local level.
"That's what the government wants us to believe," Phillips responds. "They want to basically pass the buck of their responsibility to provide universal education five days a week to our children."
Phillips noted her son's classes now have upwards of 32 students … which is a shame, but this was essentially the average class size yours truly faced for much of his teaching career.
Ms Phillips, who was leading the Save Our Schools march, said: "This is about the principle that the average person on the street thinks children should go to school five days a week. The average person thinks there are basic, minimum standards in our public services and we are currently degrading them. If we don't talk about it, we will never get that back. …

Ms Phillips also raised that schools shutting for half a day of the existing school week will have ramifications on working parents who are unable to arrange or afford child care.

The MP acknowledged that by taking her child out of school for the day she could be fined under government rules.

"The government rules state that I should be fined," she said, adding sarcastically, "but it's fine for them to take my children out of school."

Asked about how her son felt about being involved in the demonstration, she said: "He's absolutely thrilled."
In fact, Phillips noted the irony of skipping school to protest shorter class time is "part of [his] citizenship education." She added: "The children are learning that we don't just let people with power walk all over us."
MORE: Student union prez suggests education cuts cause youth to join ISIS
MORE: Despite what liberals say, it's not immoral to cut federal education spending
IMAGE: Twitter screencap
Like The College Fix on Facebook / Follow us on Twitter