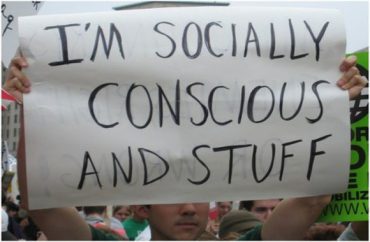 "Brown University, like many other universities across the nation, is integral to the function of capitalism, white supremacy, and patriarchy."
After two years of work, a group of Brown University students has completed what it calls the "Burn Brown Book," a so-called "disorientation guide" not unlike those seen at other colleges over the years.
As noted by CBS News, the guide is designed to illuminate the history of "racism, capitalism and activism on campus." The BBB provides an "alternate vision" for the university, one in which Brown takes care of the local community and provides a "safe space" for minority students.
BBB co-creator Noël Cousins said those involved with guide wanted to show off their efforts "in a fun way," and were inspired by the "burn book" in the movie Mean Girls with which characters spread rumors and gossip.
Cousins noted that she'd like to see Brown return all of its assets to the state of Rhode Island, or at least make all of its facilities open to the public "so working-class people […] and Black and Brown people have control of that." The BBB specifically highlights nearby Hope High School where less than 5 percent of students are proficient in math.
The guide also intimates black students aren't safe from sexual assaults by whites: Four years ago a white student kissed a black peer "without her consent." The latter didn't report the incident to school officials because "she felt its leaders did not have accountable outreach for Black women" and "based on conversations she had with other Black women on campus […] felt the administration would not keep her safe."
Chapter titles in the Burn Brown Book include
–Welcome to Brown! Time 2 Destroy Her
–Neocolonial Providence
–(Re)Distribution Requirements
–Hijacking the University
–Pushing for Decolonial Disciplines Within Western Academia: An Argument for Critical Muslim Studies
–"We were absolutely unified": Remembering Third World History at Brown University
–A Timeline of Student Environmental Activism
–Building a MFKN Movement!!!
–Anti-Zionism and Palestinian Liberation Efforts at Brown
–Cyber & Self-Defense 4 Hacker Femmes &Radical Anarchist Theydies
–#BurnBrown
The opening chapter notes that 60 percent of Brown's student population comes from the richest 10 percent of Americans, with 20 percent coming from the richest one percent.
"The tea really is, Brown University, like many other universities across the nation, is integral to the function of capitalism, white supremacy, and patriarchy," the guide retorts.
The second chapter tells students it is "imperative" to hold Brown accountable for all "the harm [it] causes around the globe" and "the fuckery that [it] gets up to":
Saying it again for the bitties in the back, you have a responsibility to do something about Brown's fuckery now that you're here benefiting from it.

The purpose of this disorientation guide is (1) to orient folks toward political goals and strategies with queer, decolonial, abolitionist potential (2) to share histories of organizing on campus as well as the institutional knowl-edge that has sprung from that organizing, and (3) to provide folks with tools to effectively organize against (and eventually abolish) the University.
Villanova University's Billie Murray said the Burn Brown Book can serve as a template for student activism everywhere: "What I love about the idea of disorientation is the things that you are told about this university are not true. I've never seen this kind of thing before on this scale in this way." (Of note: Murray has justified Antifa violence and favors European-style "hate speech" laws.)
Brown said it does not comment on student projects; however a spokesman did say students and faculty "have been fearless" in dealing with matters of sexual assault and harassment.
The BBB closes with this disclaimer: "This essay does not advocate for the use of arson and is not responsible for any arson that takes place at Brown or any other private university."
Good to know.
Read the article and full "Burn Brown Book."
MORE: Tufts U. 'disorientation' guide calls Israel 'white supremacist state'
MORE: 'Disorientation guide' tells black students Penn 'hates you'
IMAGE: Sam Felder / Flickr.com
Like The College Fix on Facebook / Follow us on Twitter