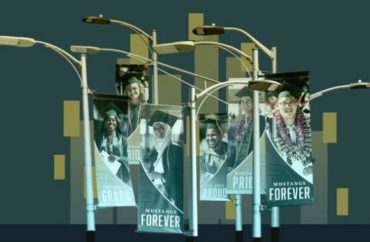 Some black alumni are questioning California Polytechnic State University's use of student images on campus banners, saying they give a false impression about the school's black enrollment.
According to Mustang News, the percentage of white students to students of color on the banners almost matches that of Cal Poly's actual enrollment — 54 percent to 46 percent.
However, black students specifically are over-represented on the banners; they make up 25 percent of the likenesses while comprising barely one percent of those enrolled.
Recent Cal Poly graduate Zane Ellis-Rector asked "What are [the university's] true intentions? Is it to honor and celebrate students or is it to present the university in a certain way? I think it is important to ask that question and be somewhat skeptical of those things."
Ellis-Rector said Cal Poly should not have the right to use students' images in such a way, especially black students'.
"I'd say it's an obvious and clear tactic," he said, referencing a university spokesperson's statement that, for Cal Poly, "it is important to celebrate the campus' diversity" and "what [it] aspires to be — a more diverse campus that better reflects the state that we serve."
MORE: Southern Illinois U. student group claims black students 'exploited,' issues demands
Cal Poly Black Student Union President Chloe Wardrick said the banners "don't just tokenize the students of color […] they almost invalidate the actual work and social change done by people like herself."
When informed that his image was on one of the banners, alumnus Kadin Stephens said "it felt exploitative" and added "It's almost like, you're stripped of power in a sense […] I didn't have a say at all."
The pattern of using students of color in marketing material is problematic and paradoxical, said Amanda Frye, a liberal studies professor at Cal Poly who studies the sociological intersections of race and education.

Diversity is framed as a 21st-century skill, and universities treat it as something they have and something they want to show, Frye said. But when universities portray students of color in branded or marketing material, Frye said they are transformed from being people into being an embodied form of diversity that can make a university appear diverse, which can have unintended consequences.

"The intention might be to create a more welcoming and inclusive-seeming environment," Frye told Mustang News. "But what ends up happening is that the students of color — who have been commodified, feel alienated and less welcome — end up feeling even more marginalized as a result."
Stephens said campus officials should do something more "meaningful" like sitting down and chatting with black students about their experiences at Cal Poly. Instead, "they want to try to put up a front for everybody and say, 'Hey, look, we have Black students here.'"
MORE: Black students furious after Students of Color conference isn't pro-black enough
IMAGE: Omar Rashad / Twitter screencap
Like The College Fix on Facebook / Follow us on Twitter