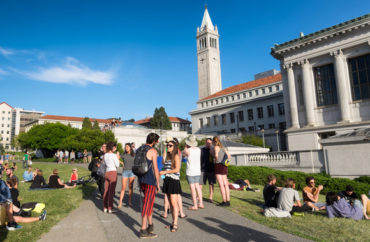 A judge has ruled that UC Berkeley must freeze enrollment because too many college students can be considered an environmental menace under the super-strict California Environmental Quality Act.
"Enrolling more students at one of America's best public universities might be bad for the environment," Slate reports. "It's the latest and most explicit example of California's famously stringent environmental law being used for population control."
"Instead of governing the construction of dams or smokestacks, CEQA is frequently leveraged by anti-development groups in California to oppose apartment buildings, homeless shelters, and bus lanes, among other things. Now it's being employed to micromanage university admissions."
Long story short, UC Berkeley wants to enroll more students and build a few more buildings, but because the university is already well over the student population estimated in its long-term development plan the judge ruled it needs to do a new environmental impact report before it can expand. Such a report would require the university to develop mitigation measures.
"Their failure to comply with analyzing the impact of 11,000 additional students in Berkeley was so compelling to the judge that he felt that it was necessary to tell them that they can't increase enrollment at this point, until they go back and study the impacts and put mitigation measures in place," Phil Bokovoy, president of Save Berkeley's Neighborhoods, told Inside Higher Ed.
Save Berkeley's Neighborhoods is one of the local groups fighting the university's growth plans in court. One of the largest points of contention is the lack of housing in the already densely populated area.
"California's flagship public university must now assess the ecological cost of its student body at once," Slate reports.
A campus spokesman, meanwhile, described the ruling as a bump in the road.
"We are optimistic that we can file documents with the court very soon that will satisfy the judgment with regard to future increases in enrollment," campus spokesman Dan Mogulof said in an email to the Daily Californian. "It will probably take [campus officials] between six and eight months to address the requirements of the judgment with regard to the Upper Hearst project."
MORE: Campus diversity program accused of having toxic environment
Like The College Fix on Facebook / Follow us on Twitter