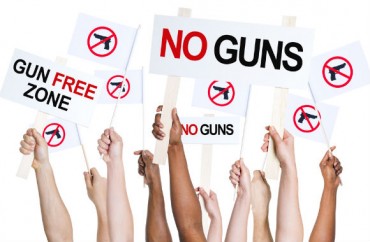 Lawyers for three University of Texas-Austin professors and the university itself were in federal court yesterday, in a case that could suspend implementation of the state's campus carry law, at UT if not statewide.
But that won't happen until late next week at the earliest, because the two sides couldn't even agree on whether professors would be punished by UT-Austin for banning guns in their classrooms.
MORE: Georgia governor vetoes already-weak campus carry law
The Daily Texan reports that the professors suing the school for chilling their First Amendment rights (because guns in class will limit "freedom of discussion")
pointed to a list of policies approved by the Board of Regents, while the school's lawyers argued the official policies were in UT-Austin's Handbook of Operating Procedures.

After about an hour of discussion, U.S. District Judge Lee Yeakel called a recess to give the two sides time to reach a consensus on the exact University policies. Unable to reach an agreement, the issue was put aside for the time being.
MORE: Anti-gun protesters try to block campus carry from taking effect
They spent another 90 minutes arguing about the First Amendment core of the suit, with UT-Austin saying that its implementation of the campus carry law is not a "direct regulation of speech" nor "content-based," so the professors can't prevail.
Judge Lee Yeakal hinted that his ruling – which could come as early as Thursday – would go beyond the three professors who are suing, because the case has "much broader implication."
MORE: Texas professors plan to block guns from classrooms
MORE: Guns are legal in public on campus, but not dildos
MORE: Few campus people registered for campus carry in first week of July
Like The College Fix on Facebook / Follow us on Twitter
IMAGE: Rawpixel/Shutterstock