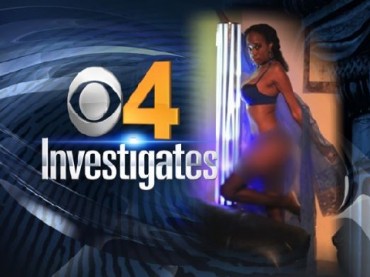 A longtime and award-winning diversity administrator at the University of Colorado Denver allegedly ran a phone-sex business while on the clock and has been put on paid administrative leave from her $68,000-a-year job while campus officials investigate, CBS4 Denver reports.
Resa Cooper-Morning, the cultural diversity coordinator for the college's ethnic studies department, allegedly ran a site that allowed people "to purchase memberships … to view dozens of low budget, soft core videos starring Cooper-Morning," CBS reports. "One is entitled 'Erotica in Pink, another 'Ride Her Pony!' while a 2013 offering is called 'Vanilla Cocoa Butter Oil.' The short videos generally show Cooper-Morning in provocative poses and taking her clothes off."
While the site itself may not be against university policies, its phone-sex component is another matter.
"The site says Cooper-Morning can be reached for phone sex Monday through Friday from 7:30 a.m. until late at night," CBS reports. "Her university work hours are listed as 7 a.m. until 3 p.m. Monday through Friday."
Her daughter-in-law told CBS she personally witnessed Cooper-Morning taking such phone calls while at work, and voiced concern about the waste of taxpayer money, saying: "She is taking calls at work. I've been in her office and she's said, 'Oh, let me be right back I have a phone call.' She takes them very discreetly, shuts her door (and) takes phone sex calls on CU of Denver's pay. As a taxpayer I think this is wrong that she is doing this on our dollar."
IMAGE: CBS4 Denver
Like The College Fix on Facebook / Follow us on Twitter