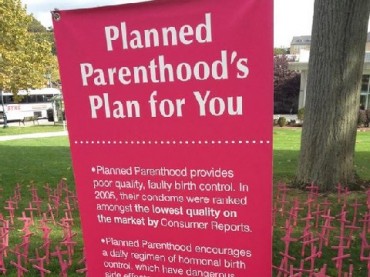 Catholic colleges are known for employing many faculty and administrators who oppose the church's social teaching on abortion and contraception, but one school is learning there are limits to its cooperation with the abortion industry.
DePaul University took down Planned Parenthood "volunteering" opportunities from its Career Center and College of Science and Health Web pages the same day that a petition launched against the school for those listings, according to TFP Student Action, a project of the American Society for the Defense of Tradition, Family and Property:
Several pro-life advocates took it upon themselves to place calls to the office of Fr. Dennis H. Holtschneider, president of DePaul University, to complain about the problematic relationship.

"We've taken it down from the web site," said a receptionist for the DePaul University career center shortly before hanging up the phone on a TFP volunteer who wanted to know how the university was planning to prevent future listings from going up again.
The petition currently has just under 12,000 signatures. TFP Student Action still senses blood in the water:
In spite of the fast reaction of DePaul in taking down the information from their web site, the lack of any statement – public or private – on the part of the university does nothing to suggest the relationship has been completely severed.  The responsibility of assuring the public that DePaul intends to be true to its Catholic identity is in the hands of Fr. Holtschneider and the administration.
It's not the first successful campaign against Planned Parenthood listings on a Catholic college website.
Read the TFP Student Action story and petition.
Like The College Fix on Facebook / Follow us on Twitter