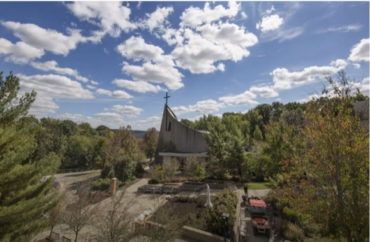 School to tap into reserves to fund endeavor
While private schools with billion-dollar endowments bicker with politicians over coronavirus relief funding, a small Catholic university in eastern Ohio is offering a semester of free tuition for all new students.
Franciscan University of Steubenville announced last week it would launch a financial assistance program called "Step in Faith" that offers a semester of free tuition for all new students by tapping into reserve funds.
While acknowledging the program may help maintain or perhaps increase enrollment, it is primarily designed to aid students disadvantaged by the economic crisis brought by the COVID-19 pandemic, according to campus officials.
The free semester applies to all incoming freshman and transfer undergraduate students, as well as all new graduate students. The plan was approved by a unanimous vote by the board of trustees, a university news release stated.
"As a university, we feel called by God to ease the burden for students, so they can experience the irreplaceable value of a Franciscan University education. We've heard from many students whose concerns over the pandemic are making the decision to leave home for college more difficult," university president Rev. Dave Pivonka said in the statement.
"Many families and students have seen their ability to pay for college evaporate due to the economic impact of the coronavirus," he continued. "We hope this unique response will help them to overcome these obstacles and uncertainties and step out in faith with us."
But new students aren't the only ones benefiting from "Step in Faith" initiative.
University spokesman Tom Sofio told The College Fix in an email that all returning students would also receive assistance in the form of an additional $1,000 in grants to be used toward tuition. Undergrads have also been offered a free semester of graduate studies, should the student wish to pursue further education at any point over the next five years, he said.
Graduating seniors will also receive $500.
Franciscan's program stands in stark contrast to many major universities with billion dollar endowments such as USC and Notre Dame who are receiving millions in government aid. According to U.S. News & World Report, Franciscan University's total endowment in 2018 was just over $61 million and it is set to receive just over $1.6 million in emergency government aid.
In his email statement to The College Fix, Sofio indicated that enrollment issues played a part in the decision to offer a semester of free tuition.
"It is too early to determine the exact impact of the pandemic, however many students are currently hesitant to commit to on-campus higher education in the midst of this current situation," Sofio said. "Step in Faith will allow many families and students who have seen their ability to pay for college evaporate to experience the irreplaceable value of a Franciscan University education."
But even as the school offers a semester of free tuition, it is asking those families that can still afford tuition payments to assist them in funding the initiative.
"[For] families for whom tuition payments are not a hardship—as well as other benefactors—have the opportunity to contribute to the Step in Faith Fund, which will help us help our students," Pivonka said in the release.
As to how the school plans to absorb a financial hit from waiving tuition for a semester for a quarter of its students, Sofio said the school considers "Step in Faith part of our calling to serve and we make this sacrifice from the reserves built up over the years."
"Our patron, St. Francis of Assisi, had a deep concern for those in need, and as a Franciscan university, we seek to follow his example in caring for those entrusted to us. While we always strive to keep our tuition affordable, we decided we needed to do more in light of the severe difficulties so many are facing this year," Pivonka said in the press release.
MORE: As coronavirus puts Mass on hold, these campus chaplains urge hope
Editor's note: The author of this piece is a 2019 graduate of Franciscan University of Steubenville.
IMAGE: YouTube screenshot
Like The College Fix on Facebook / Follow us on Twitter