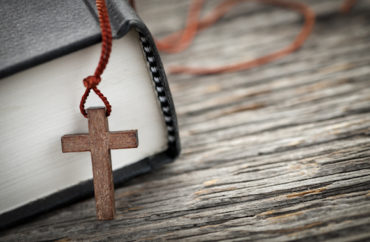 Want to tackle 'systemic racism' – but can't define it
In a forthcoming curriculum program on Christian leadership, Christian colleges are partnering with an unexpected source: non-Christians.
The Council for Christian Colleges and Universities, which says it represents about 150 institutions in North America, developed an online curriculum with Interfaith Youth Core titled "Christian Leadership in a Multifaith World."
The grant program for CCCU faculty and staff is intended to either be integrated into existing college courses or "co-curricular leadership programs on CCCU campuses," offering a series of online activities. CCCU's page for campus grants says the curriculum "explores the Christian foundation for interfaith engagement, builds students' religious literacy, and equips students to lead bridge-building activities in their communities."
The organization twice refused to answer College Fix questions about why it's inviting people outside the Christian faith to design a Christian curriculum and how it will ensure the curriculum doesn't water down Christian teaching.
A spokesperson did not make an official available for an interview, but instead provided a written statement that largely repeats its messaging about the curriculum. The group also couldn't define "systemic racism" – a phrase that appears on the first line of the request for proposals from CCCU faculty and staff.
MORE: CCCU opposes Title IX due process reforms, 'barrier' to truth
CCCU's mission is to "advance the cause of Christ-centered higher education and to help our institutions transform lives by faithfully relating scholarship and service to biblical truth."
Interfaith Youth Core was founded by a member of President Obama's Advisory Council on Faith-Based Neighborhood Partnerships, Eboo Patel (left). Its website says Patel's American Muslim identity and his time navigating a religiously diverse social climate inspired him to found IFYC.
In a recent column on Amy Coney Barrett's Supreme Court nomination and the "American Wars of Religion," Patel argued that referring to America as "Judeo-Christian" is not "especially theologically precise or historically accurate."
Considering there are "as many Buddhists in the United States as ELCA Lutherans [the largest Lutheran denomination], and twice as many Muslims as Episcopalians," America is "now fully Interfaith America," he wrote.
Applicants asked to share their 'racial identity'
The curriculum is being developed in partnership with faculty from Minnesota's Bethel University, which is affiliated with Converge, the brand name for the Baptist General Conference. It has received monetary support from The Arthur Vining Davis Foundations, which promote "interfaith leadership."
Faculty and staff at CCCU campuses can apply for $1,000 grants to use the "pilot curriculum" with their students next year and give CCCU and IFYC feedback for further revision, according to IFYC's grant page.
Applications are due Nov. 16 and the winners will be awarded the following month. Among the questions applicants are asked to answer: their "racial identity."
Asked why it chose a self-identified interfaith group to help develop a Christian curriculum, the organization mostly regurgitated what it posted on its grants page.
MORE: CCCU endorses LGBT protections in federal law
The curriculum "explores the Christian foundation for interfaith engagement, builds students' religious literacy, and equips students to lead bridge-building activities in their communities," CCCU said. The organization is "committed to the idea of resilient discipleship," and students will "better understand their own beliefs by engaging with the beliefs of others."
The statement also referenced a "groundbreaking" IFYC study from 2018, which showed that students who took part in activities that intentionally engaged religious diversity simultaneously deeped their commitment to their own religious identity. (CCCU has variously claimed the study included "20,000+ college students" and "3,500+ nationally representative college students," but the study only mentioned one numerical figure The Fix could find: 7,194 first-year students.)
"Not only does engaging religious diversity deepen one's own faith, but in an increasingly diverse world, it's important that future Christian leaders increase their cultural competence and understand what is important to those around them in order to more effectively love and minister to others," the statement reads.
'Champion racial justice' to satisfy grant condition
This desire for cultural competence is echoed in the opening line of the request for proposals: "Today we are reckoning with systemic racism in our nation and a pandemic in our world. These crises emerge against a backdrop of growing diversity and deepening division."
Yet CCCU did not answer two Fix requests to give its definition of "systemic racism," justify its inclusion in a curriculum on interfaith engagement, or explain how the curriculum will be helpful in fighting systemic racism. (The RFP does say that students will "make connections between interfaith engagement and historical movements for racial equality.")
The RFP continues:
We are at a critical crossroad in our national history: will we continue to divide further, or will we choose to come together across lines of difference to build a stronger society? The Council for Christian Colleges and Universities and the Interfaith Youth Core believe that individual religious identities can and should serve as a bridge, not a barrier, to working together with others from diverse backgrounds toward the common good.
MORE: CCCU waffles as members hire same-sex married couples
The two groups want to promote "the importance of civic religious pluralism among evangelical communities." This form of pluralism "underscores CCCU's existing commitments to the importance of distinctive religious identity while also contributing to a thriving civic space."
This spring, grantees will "pilot" the first iteration of this new curriculum, which is rooted in previous Bethel faculty coursework as well as the book "From Bubble to Bridge" by two of the three faculty, Marion Larson and Sara Shady, described as a "foundational text."
They must include at least four curricular activities and lead a "bridge-building project," such as a food drive for an anti-hunger organization or "champion[ing] racial justice."
As with mentions of race in the rest of the curriculum materials, the organizations do not further specify what "champion[ing] racial justice" might look like.
MORE: IFYC survey finds Mormons least popular with college freshmen
IMAGES: Elena Elisseeva / Shutterstock.com, University of Illinois
Like The College Fix on Facebook / Follow us on Twitter