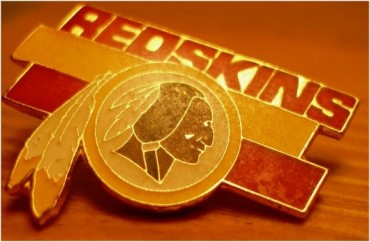 Get ready for dueling lawsuits.
An autistic college student from Oklahoma claims that the White House official in charge of its American Indian education initiative physically attacked him for wearing a Redskins shirt on a visit to Washington, D.C., leading to "multiple surgeries" on his still-crippled hand, News 9 reports.
Barrett Dahl, a member of "both the Choctaw and Sac and Fox Nations," says he was attending a Pow Wow last fall when William Mendoza approached him and called him a "weetard" for wearing the shirt. Dahl sees the moniker as a matter of "cultural pride":
"Where are you from? [Mendoza allegedly asked him.] You're so stupid and uneducated. You don't understand Redskins is offensive? And I tell him I'm from Oklahoma as I'm very proud to be and that's when he spits on me," said Dahl.
RT @usedgov "Summer is a good time to learn about #bullying — and how to stop it. …pic.twitter.com/6ZkGD3hOd8" https://t.co/DoB53uTTDL

— White House AIAN (@WhiteHouseAIAN) August 16, 2016
Dahl says Mendoza attacked him from behind as he tried to get on an escalator. Mendoza's notes – provided by his attorney – claim that Mendoza had simply asked Dahl about his "INJUN PIMP" shirt, and that "Barry" threatened him and later punched him first on the escalator. (Dahl says his shirt read "INJUN PLAYER.")
Dahl is planning to sue, while Mendoza will sue him for defamation if Dahl keeps up the claims, the lawyer said.
News9.com – Oklahoma City, OK – News, Weather, Video and Sports |
Like The College Fix on Facebook / Follow us on Twitter
IMAGE: Stephen Train/Flickr