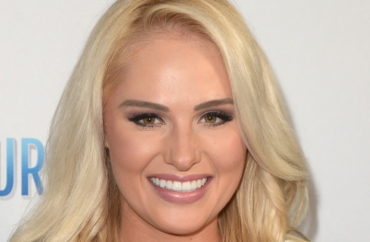 Clemson College Democrats are protesting an April 8 speech Fox News personality Tomi Lahren is scheduled to give on campus, calling her previous statements "divisive and hateful."
"Ms. Lahren does not not reflect the values and beliefs of Clemson or its students," the group wrote in a statement issued March 11. "Clemson is a home for all, and we, as part of the Clemson family, squarely reject the rhetoric intended to divide us."
Lahren's speech is billed as a "Back the Blue" event and is sponsored by Turning Point USA.
But campus progressives are working to have Lahren banned from the school, starting a petition that has garnered nearly 4,000 signatures.
"Tomi Lahren is a blatant racist that spreads hate and incites bigotry towards underrepresented groups in our nation by making statements that are, including but not limited to, racist, homophobic, and xenophobic," reads the petition.
"Allowing a speaker like Tomi Lahren to speak on our campus would be inconsistent and contradictory to our Clemson University core values: Honesty, Integrity, and Respect."
Lahren's opponents specifically cite her statements critical of the Black Lives Matter movement as evidence of her racism. In a 2016 tweet, later deleted, Lahren called BLM "the new KKK," and said "their goals are far from equality."
"We are committed to creating a more equal, fair, and inclusive environment on our campus, and statements made by Ms. Lahren, especially those concerning the Black Lives Matter movement, are divisive and hateful," the College Democrats said in their statement, urging people to sign the anti-Lahren petition online.
When the Clemson Student Government Council of Diversity Affairs issued a statement in opposition to her speech, Lahren tweeted, "You will not keep me from coming. But you can keep trying if you like! Or maybe get a job? Do something productive?"
On Sunday night, Lahren posted a TPUSA video announcing her speech on campus would be moved to a larger venue as a result of the controversy.
They tried to cancel it. They just made it bigger!! See you next week, @ClemsonUniv pic.twitter.com/nV4rLu2719

— Tomi Lahren (@TomiLahren) March 29, 2021
"They tried to cancel it," Lahren tweeted. "They just made it bigger!!"
MORE: Clemson professor reported for warning students not to use the 'n-word'
IMAGE: Kathy Hutchins / Shutterstock
Like The College Fix on Facebook / Follow us on Twitter