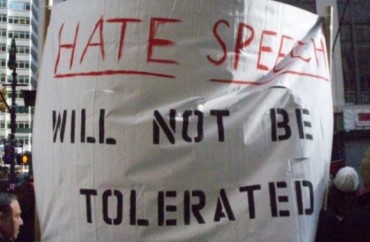 Officials at Cleveland State University are facing a wave of criticism for its response to a placard urging gay people to commit suicide.
"Follow your fellow fa**ots," the sign had read, which featured various statistics related to suicide in the LGBT community.
According to Time, the university's initial reaction was to stick up for the First Amendment, not denounce the hateful message:
"We will continue to protect free speech to ensure all voices may be heard and to promote a civil discourse where educational growth is the desired result," school president Ronald Berkman said.
Fliers found at Cleveland State University encourage LGBTQ students to kill themselves https://t.co/lRQdFwIAzT pic.twitter.com/CR0kgFyIuO

— Splinter (@splinter_news) October 18, 2017
Predictably, Berkman's statement did not go over very well:
The school's response angered students and provoked protests, petitions, and a tense, crowded town hall meeting where students spoke about LGBT people they knew who took their own lives.

Peter Sherman, a 23-year-old gay Cleveland State theater major, says he participated in the protests and town hall session because he believes the school should ban flyers urging students to kill themselves.

"People are free to believe whatever they want, but free speech doesn't protect incitements to violence," Sherman told The Associated Press on Friday. "Asking people to commit suicide is an incitement to violence."

The controversy comes as universities across the country struggle to balance concerns over freedom of speech while ensuring campus safety following a violent white nationalist rally in Charlottesville, Virginia. Officials at Case Western Reserve University in Cleveland said Thursday that such flyers would be prohibited on their campus and should be considered a violent threat against students.
The local ACLU disagrees with Mr. Sherman, however. The Ohio chapter's Mike Brickner backed President Berkman's assessment in that the flyer is indeed protected speech "because it didn't target specific individuals."
However, he added that the situation "raised novel questions about the legality of speech that encourages suicide": "That has opened up a dangerous concept," he said. "We start to walk down the path of criminalizing speech in that way. It's a question courts may continue to grapple with."
On Twitter, a lawyer disagreed with Bricker claiming the sign is "incitement." He also demanded President Berkman be fired.
In reaction to the criticism of its handling of the situation, the university said it will "create an advisory committee and offer more sensitivity training."
"Hate has no place in our community. It never will," the school said in a statement on Friday. "We unwaveringly value our marginalized students, faculty and staff."
In the meantime, keep your eyes and ears open to news of who was responsible for the flyer. That is, if you can find it.
MORE: Student sit-in demands free tampons and ban on 'hate speech' at public university
MORE: UPenn students publish open letter demanding hate speech measures on campus
IMAGE: Ashley Marinaccio/Flickr
Like The College Fix on Facebook / Follow us on Twitter