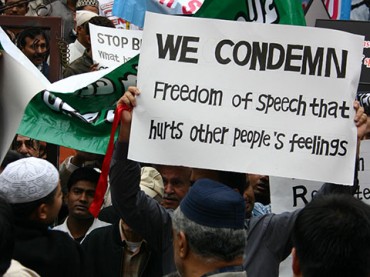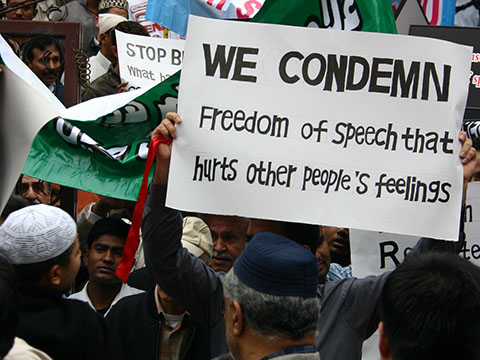 The Iowa City Press-Citizen has an in-depth (and depressing) look at the timeline of events that led the University of Iowa to remove an anti-racist statue from campus because some students utterly missed the point.
Vice President for Student Life Tom Rocklin repeatedly defended the school's action against its own artist-in-residence. Try not to throw up when you read his response to a concerned law professor:
"While I understood that I would view the piece through the lens of my own privilege, hearing the students pour out their hearts as they described the fear they felt when the saw the piece was a visceral reminder that intent is only part of the question … and sometimes impact trumps intent."
Keep holding back that impulse to wretch:
In the email [to a concerned student], Rocklin said it took five or 10 minutes between when he arrived on the Pentacrest and when the sculpture was taken down. But he described that time as being "excruciating" for community members who feared for their safety.
Orwell couldn't have written the university's official response any better:
The two-paragraph statement further said UI "respects freedom of speech, but the university is also responsible for ensuring that public discourse is respectful and sensitive." As such, "there is no room for divisive, insensitive, and intolerant displays on this campus."
The head of the art school ripped the head of PR for the statement:
"Are you aware that the work was clearly — to anyone who actually looked at it — an indictment of racial injustice in the U.S.?" …

"I think it would be important to interpret the work correctly. The UI statement gives a false impression about the meaning of the work of art and that contradicts our reason for being an institution of higher learning."
Shake your head and weep:
To a question about what more Rocklin would say to [artist Serhat] Tanyolacar, Rocklin responded in one Dec. 5 email: "All I can say is that the students were not just hurt. Some of them were genuinely afraid that the KKK was on campus and might harm them."
Like The College Fix on Facebook / Follow us on Twitter
IMAGE: Sam Graham/Flickr