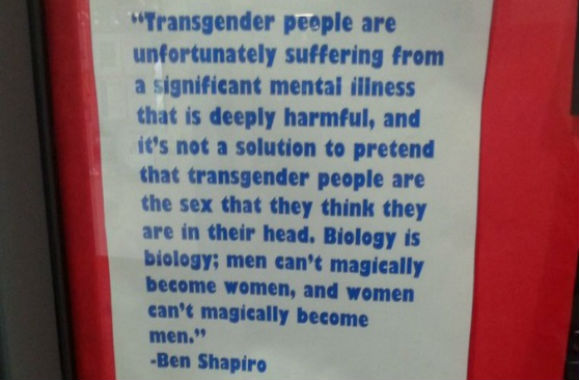 'The most dangerous place for an African-American is in the womb'
Quoting other people may be deemed a violation of campus policy at Maryland's Hood College.
The private liberal arts school, historically affiliated with the theologically liberal United Church of Christ, is investigating whether to hand down "sanctions" against the College Republicans for a glass-case display in the student center, The Frederick News-Post reports.
The club is displaying examples of "conservative culture" through Tuesday, including views on "abortion and transgender people," with a quote from conservative pundit Ben Shapiro:
Transgender people are unfortunately suffering from a significant mental illness, and it is not a solution to pretend that transgender people are the sex that they think they are in their head. Biology is biology; men can't magically become women and women can't magically become men.
@benshapiro my college republicans club is under fire because we used a quote of yours in our display.
Hood College pic.twitter.com/QBAeocigbW

— Christopher Gardner (@sky_cucumber) April 21, 2017
Reflecting pro-life attitudes about the disproportionate abortion rate among African Americans, which have proven controversial at other schools:
One poster depicted a photo of a black female toddler and the words "Let's talk about race … abortion is the number one killer of black lives in the United States." Another stated, "the most dangerous place for an African-American is in the womb."
The CRs say it's a way of provoking debate and ginning up interest in their club meetings. The school says they may be punished:
Hood President Andrea Chapdelaine in an email sent to students, faculty and staff Thursday called for the college to review the messages based on "college procedures" to determine if the display violated campus policies, "with appropriate sanctions to follow if such a determination be made." The email did not specify the procedure or penalties.
Chapdelaine rejected calls to remove the display before its scheduled takedown on Tuesday, but invited students to a Tuesday student-organized forum on the display.
MORE: Protesters hijack conservative student meeting, call them 'white supremacists'
Sentiment seems to be running against the CRs, with many calling it a "hateful and threatening" display:
Lynda Sowbel, director of and teacher in the college's social work program, singled out this [Shapiro] quote as particularly hateful.

"Some of these things might make students who are here feel threatened, and that's not OK," she said.

Hanan Zinab, president of the Hood Black Student Union, voiced a similar opinion.

"For me, it's not freedom of speech," said Zinab, 20. "It's freedom of hatred."
Transphobic & anti-choice rhetoric is abound thanks to Hood College Republicans & their inflammatory display case on the 2nd floor of whit. pic.twitter.com/kMeNmLlwJy

— Jen ✿ (@hi_imjenni) April 19, 2017
The BSU's vice president, Jordyn Curtis, was less offended, saying the comments about the black abortion rate stung mostly because the campus has a small black population, so it feels more targeted.
The former president of Hood's LGBTQ club, who is now running for local office, weighed in:
[Kris] Fair called for the college to review "what it means to allow free speech," adding that he thought there should be "requirements for some respect behind the language you're using."
CRs president Christopher Gardner said club members have been "bullied" on social media since the "firestorm" over the display hit Wednesday, but the display did its job: "We just wanted to provoke thoughtful discussion."
If history is any indication, the CRs' Sunday meeting – advertised in the glass case – may draw critics of the club who use verbal and physical intimidation against them.
Please read. #Republicans #collegerepublicans #conservatives pic.twitter.com/FXkY3xjLYL

— Christopher Gardner (@sky_cucumber) April 19, 2017
MORE: University of Kansas mob threatens conservative students to leave school
h/t Inside Higher Ed
Like The College Fix on Facebook / Follow us on Twitter
IMAGE: Christopher Gardner/Twitter
Like The College Fix on Facebook / Follow us on Twitter