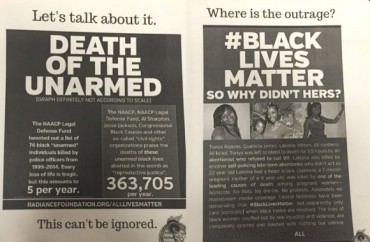 Gettysburg College is promising that its new bias-response team will be a kinder, gentler way to tell students and faculty that their speech is wrong.
Inside Higher Ed reports that last winter's campus outcry against pro-life posters that used a "Black Lives Matter" motif led the administration to fast-track the team's creation.
The private college announced a new freedom-of-expression policy at the same time it previewed the bias-response team in April, with Chief Diversity Officer Jeanne Arnold faulting the pro-life students for their "misleading use of 'Black Lives Matter":
The bias-response team wasn't created in response to the posters — but it also wasn't entirely unrelated.

"It was on the to-do list since last fall," Arnold said. "But after the poster issues, I just kind of moved it up on my list of things we were going to do anyway."
The bias-response team will not "adjudicate" disputes, but rather "watch for patterns" of claimed bias and "tailor educational programs accordingly," Inside Higher Ed says.
One of the pro-life student activists, Young Americans for Freedom's Alissa Lopez, said she isn't so sure, given that her group was publicly denounced by the administration for putting up posters that basically say "'we think these lives have value.'"
She claims that administrators demanded they remove the posters, though the director of student rights and responsibilities, Ron Wiafe, says they were only asked to "adjust their communication."
Same dif.
MORE: Black students protest pro-life #BlackLivesMatter campaign (VIDEO)
MORE: Law deans scold student for saying abortion kills black people 
Like The College Fix on Facebook / Follow us on Twitter