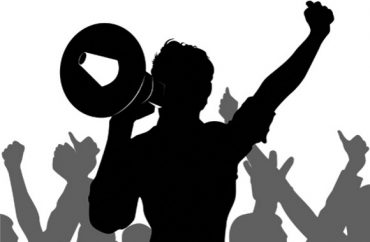 This past Monday, approximately 40 Cornell University protesters demanded school officials provide free legal services for undocumented students and sever all ties with Immigration and Customs Enforcement, or ICE.
Organized by Cornell's DREAM Team, the protesters held placards stating "No one is illegal on stolen land" and chanted "Power to the people, no human is illegal," The Cornell Daily Sun reports.
The DREAM Team's Melissa Yanez, a DACA (Deferred Action for Childhood Arrivals) student, complained she was tired of "Band-Aid solutions" as DACA "is not a solid form of status for anyone."
Yanez and fellow DREAM Teamer Stella Linardi plan to expand their campaign to other Ivy League schools with the hopes of getting the University of California system model in place. This means a set protocol for interactions with ICE officers and a "toolkit" for members of the campus community.
Yanez and Linardi said the Cornell community "of all immigration statuses" should support their efforts" by coming to protests and engaging in advocacy on behalf of the undocumented.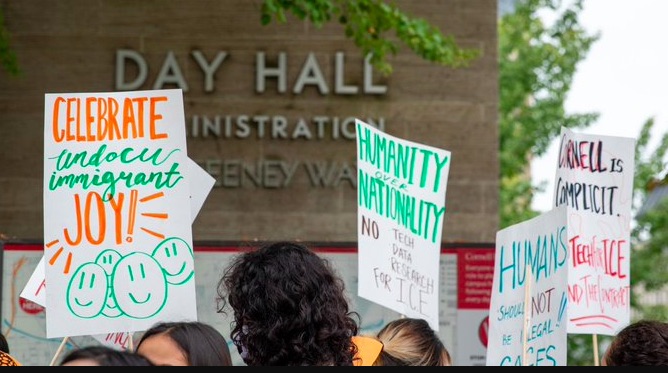 [B]eyond calling from greater support for undocumented students from the University, according to Yanez, the rally also celebrated "undocumented joy." Major parts of the rally involved singing parody songs targeted at the University and playing music through a speaker.

"I enjoyed just feeling the love and the support from different people because that's what we wanted to achieve, some undocu-joy, just like a celebration," Yanez said. "I'm glad that my peers recognized me yesterday as a DREAM Team member especially, and I look forward to seeing people who really want to support undocumented students on campus." …

Two law students, Claire Piorkowski and Serene Kabir, also got involved in the rally taking the lead on the part of the letter of demands relating to the Lexis and Westlaw data sharing with ICE.

"I decided to become involved because I personally believe that no person, regardless of their documentation status, is 'illegal' while living on stolen land," Piorkowski said, referring to the U.S.'s colonial past.
Student Victor Yengle added "I empathize with the struggle that many immigrant students, especially those who are undocumented, are facing. It is my personal conviction to use the privilege I have access to now as a U.S. citizen to also support organizations fighting for collective recognition."
MORE: Cornell in uproar after frat bro yells 'build a wall' near Latino center
IMAGES: Shutterstock; Twitter screecap
Like The College Fix on Facebook / Follow us on Twitter