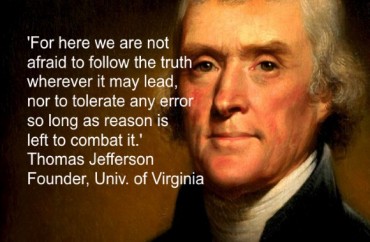 This past Thursday, the Dallas Independent School District School Board took up the matter of renaming some of its schools, identifying 21 with "some sort of Confederate tie."
Superintendent Michael Hinojosa noted four schools were "priorities": William L. Cabell, Stonewall Jackson, Robert E. Lee, and Albert Sidney Johnston.
According to NBC-5, "[t]he board seemed to agree with starting with the four schools recommended."
"I think the board, in essence, is pretty much together on this. Just, do we waive the current policy or not, and I want an expedient timeline. I'm looking at about two months," Trustee Joyce Foreman said.
However, what the NBC-5 report doesn't mention is the list of recommended schools includes the names of three prominent Founding Fathers — Thomas Jefferson, James Madison, and Benjamin Franklin.
The Daily Caller reports that DISD board member Dustin Marshall, at the behest of many of his constituents, posted on Facebook the full list of schools under consideration for new names.
Marshall noted he will not support changing the name of the only school that's in his district, Ben Franklin Middle School:
"I will not support a name change for Franklin since Benjamin Franklin clearly had many accomplishments that form the basis for why the school was named after him. I don't believe this school was named after Franklin to send a signal of oppression and control."
For the most part, reactions to Marshall's school listing were negative:
"Sam Houston?!?! William B Travis??? Now we oppose the Texas Revolution?"
"James S Hogg was never a part of the civil war. Please make sure you guys study up on your Texas history."
"So no founding fathers of Texas or the USA? What's next? Remove the name LBJ highway because of poor decision to continue Vietnam war?"
"Travis and Bowie died at the Alamo, and Houston was drummed out of office because he opposed secession. What are the grounds for inclusion on this list?"
The next board meeting takes place in two weeks where the trustees "could decide then whether to waive normal name change policy."
Read the full NBC-5 and Daily Caller stories.
MORE: Houston schools spend $1.2 million to ditch Confederate building names
MORE: Confederate Crackdown: Colleges sanitize Civil War-era symbols from campus
Like The College Fix on Facebook / Follow us on Twitter