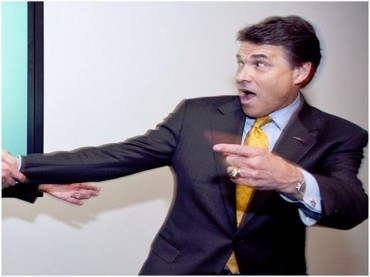 The outgoing governor of Texas didn't give a handful of juvenile Dartmouth students any useful soundbites when they tried to bait him with questions about anal sex at a speech on campus, The Daily Caller reports:
Ostensibly speaking to students at Dartmouth College in Hanover, N.H., about border security and fiscal responsibility, Perry's question time was marred when three different students asked questions harassing the governor over his stance on homosexuality. The students were led by one Ben Packer, a sophomore who wrote up a list of 11 offensive questions prior to the event and distributed them around campus.

Packer fired the first shot of the night, asking Perry whether "you dislike bootysex because the peeny goes in where the poopy comes out?"
Perry's cool under heckling impressed one student:
According to Sandor Farkas, a sophomore who was at the event, Perry politely deflected the question and then moved on to another, where he fielded a more serious question about his attitude toward gay marriage.

"I think that says a lot about the governor," Farkas told The Daily Caller News Foundation. "When he was asked an inappropriate question, he politely dismissed it. I don't think he was aggressive in any way … and then when he was asked a respectful question, also about homosexuality, he gave a respectful, honest answer."
The Dartmouth, which actually covered the content of Perry's remarks, also has more horrified student reaction:
Several members of the audience said they were excited to hear Perry speak but offended by the questions.

"I was really excited to see him come out to Dartmouth and speak with the students and I think he was able to cater towards the entire audience, not only the College Republicans," Abraham Herrera '18 said, noting that some students' remarks were offensive.
Both the College Republicans and College Democrats criticized the coordinated prurient questions, but prankster Packer thinks they ruined his merriment with a warning before the speech:
"The questions – they're funny, right? I think they're funny. I think a lot of people think that they're funny, but since the event had control over the framing of the questions, nobody in the audience laughed. They booed."
Read the Daily Caller and Dartmouth articles.
h/t Campus Reform
Like The College Fix on Facebook / Follow us on Twitter
IMAGE: Ed Schipul