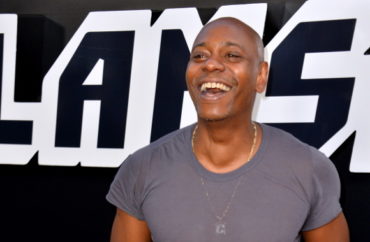 Leaders of the Duke Ellington School of the Arts have pledged to keep intact plans to name its theatre after alumnus Dave Chappelle despite backlash and protests from the LGBTQ community.
But the Washington D.C.-based high school has pushed back the renaming ceremony and associated fundraiser from its original date of November 23 of this year to April 22, 2022, campus officials recently announced.
Although Chappelle has been a massive donor and supporter of the school, his comedic commentary on the transgender issue — he argues biological sex is immutable — has led him to become one of cancel culture's biggest targets.
Duke Ellington School of the Arts, in its announcement, explained why the event has been delayed by calling the situation a "teachable moment":
The Closer — the most watched comedy special in Netflix's history, which has garnered a 96% audience rating on Rotten Tomatoes — has sparked a national debate around race, gender, sexuality and "cancel culture." As a learning institution that champions inclusivity, diversity, equity, and belonging, we care deeply about protecting the well-being and dignity of every member of our student body, faculty, and community. We also believe moving forward with the event, originally scheduled for November 23, 2021, without first addressing questions and concerns from members of the Ellington community, would be a missed opportunity for a teachable moment.

We will lean into this moment as a community. We have engaged in listening sessions with our students and have allowed space for diverse viewpoints. We are committed to fostering a community where every individual feels both heard and supported. Those conversations are ongoing. Additionally, using Chappelle's latest works as the impetus, we have expanded our Social Studies curriculum to include content related to political activism, civic engagement, arts activism, and the intersections of race, gender, and sexuality. Our objective is to uplift conversations around artistic freedom and artistic responsibility.

Through these endeavors, we want our students to own their art and understand that being an artist and public figure comes with both responsibility and an increased level of scrutiny. We recognize that not everyone will accept or welcome a particular artist's point of view, product or craft, but reject the notion that a "cancel culture" is a healthy or constructive means to teach our students how society should balance creative freedom with protecting the rights and dignity of all its members.
Politico reports the "backstory" to the controversy began after some students "got into a heated debate with faculty after being told that they were expected to help assemble an exhibition to honor Chappelle on the same day as the fundraiser."
"With many of their classmates identifying as LGBTQ+, the students were uncomfortable supporting the comic, and some even talked about staging a walkout if the tribute went forward."
"Ellington ended up canceling the fundraiser, even though an invite had already been sent to multiple patrons," Politico reports, adding Chappelle has "donated $100,000 to his alma mater, gave it one of his Emmy awards in 2017, delivered a commencement address for the school, held a master class for students and regularly visited its campus with fellow celebs, like Bradley Cooper and Chris Tucker."
School officials, in their statement, explained why it's important to keep intact the longterm plans to name the theater after the controversial comedian.
"This theatre naming was the desire of one of our founders, Peggy Cooper Cafritz, who recognized Chappelle as an important thought leader of our time," their statement read.
"She understood that the current and future impact of his work and influence would raise the profile of the school, increase opportunities for the entire Ellington community, and provide critical fundraising support for the sustainability of our arts-based curriculum."
ALERT: Check out our new Campus Cancel Culture Database!
IMAGE: Featureflash Photo Agency / Shutterstock
Like The College Fix on Facebook / Follow us on Twitter