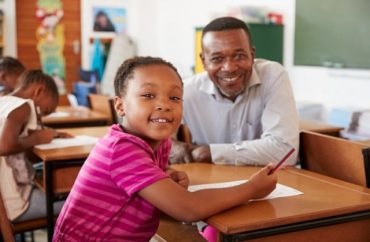 UPDATED
A group of Delaware high schoolers is calling on state officials and school districts to increase the number of minority teachers in the First State's classrooms.
The Youth Advocacy Council says "It's safe to say that we are experts in the educational experience" as its members "spend eight hours a day, 180 days a year in school." The organization is miffed at the disproportionate number of white educators who teach the 30% black and 20% Hispanic children in the public schools.
In a recent News Journal story, recent Cab Calloway School of the Arts graduate Kunovenu Haimbodi said the situation is "unacceptable":
"We put teachers in the classroom who don't look like the students that they're teaching, and that's a problem. We need to have students be able to look up to somebody who looks like them."
Sussex Tech HS graduate Madeline Schneider noted she never had a teacher of color all throughout school, and is disappointed because "having diverse educators can help teach cultural awareness and sensitivity."
The YAC notes "multiple studies" have shown that children of color perform better in school when taught by teachers who look like them. White students also benefit because having a minority instructor "can debunk the stereotypes and misconceptions that are often perpetuated in the media and society."
The group offered five recommendations to alleviate the teacher race/ethnicity imbalance:
1. Require districts to set annual three-year and five-year goals for increasing teacher diversity. School districts should also reflect on root causes and biases in their current hiring practices and publicly report on strategies implemented each year to reach the goals.
2. Place greater emphasis on recruiting students of color and teachers of color into the state's new teacher career preparation pathway (the Teacher Academy) and evaluating the program's impact. Currently, the majority of educators teaching the program are white and there are no reports on how many students of color are enrolled.
3. Make school-level data on teacher diversity easily accessible to the public to raise awareness about successful schools and schools in need of improvement.
4. Make data on teacher diversity in Advanced Placement courses accessible to the public.
5. Create a program in partnership with Relay Graduate School of Education-Delaware to prepare and recruit teachers of color, as well as providing scholarships that would incentivize prospective graduate students of color to apply for residency programs.
YAC founder Gabrielle Thomas said one of the group's goals is "for students to approach lawmakers and demand action." One possible idea: Offer financial incentives to attract more black teachers.
However, politically, any teacher incentives based on race would be a non-starter. It's hard enough to attract teachers period, and the historically low-paying education field has to compete with well-paying career paths in bringing in qualified minorities.
In a message to The College Fix, Delaware State Education Association president Mike Matthews said the teachers union has language in its resolutions which favor "proactive recruitment practices to diversify the teaching staff," but doesn't specifically mention financial incentives. The DSEA has publicly opposed other teacher incentives, such as those associated with student test scores.
As could be expected, the supposed racial/ethnic effect of having teachers who "look like you" doesn't ever seem to be of import when it comes to one particular minority: Asians. Though Asians comprise a tad over one percent of the public school teacher population compared to five percent of the collective US student body, somehow students in this demographic  manage to academically outperform every other racial group — including whites.
Read the full News Journal story.
UPDATE: Clarified the statement from DSEA president Matthews about Delaware teacher incentives.
MORE: White female educators trained to 'overcome' bias against black males
MORE: University pays teachers $250 to become more 'inclusive'
IMAGE: Shutterstock.com
Like The College Fix on Facebook / Follow us on Twitter