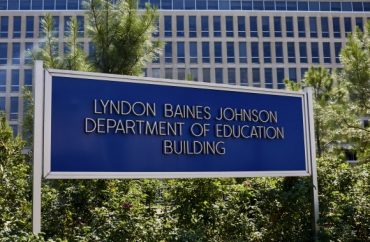 Secretary of Education Betsy DeVos's* choice for her department's Office for Civil Rights acting chief is being questioned in part because the pick once claimed she faced discrimination for being white.
ProPublica points out that Candice Jackson, while a student at Stanford, took issue with a section of a class that "was reserved for minority students."
In the Stanford Review Jackson wrote "I am especially disappointed that the University encourages these and other discriminatory programs. We need to allow each person to define his or her own achievements instead of assuming competence or incompetence based on race."
Such troglodytic views, along with her relative inexperience, ProPublica's Annie Waldman writes, "lead some observers to wonder whether Jackson, like several other Trump administration appointees, lacks sympathy for the traditional mission of the office she's been chosen to lead."
Indeed, the article's sub-headline reads: "[Jackson's] intellectual journey raises questions about how actively she will investigate allegations of unfair treatment of minorities and women."
Her appointment "doesn't leave me with a feeling of confidence with where the administration might be going," said Theodore Shaw, director of the Center for Civil Rights at the University of North Carolina School of Law, who led Barack Obama's transition team for civil rights at the Department of Justice.

"I hope that she's not going to be an adversary to the civil rights community and I hope that the administration is going to enforce civil rights laws and represent the best interests of those who are affected by civil rights issues." …

One topic of heated debate on campus was affirmative action, which California banned in public institutions, such as universities, in 1996. The prohibition did not affect private universities, like Stanford, which could continue to employ preferential policies both in admissions and in special programs designed to assist minority students in college-level math and science courses.

During her senior year, Candice Jackson penned her objections in an op-ed, contending the university "promotes racial discrimination" with its practices.

MORE: Author of 'Women Targeted by the Clinton Machine' chosen for ed. civil-rights post

"As with most liberal solutions to a problem, giving special assistance to minority students is a band-aid solution to a deep problem," she wrote. "No one, least of all the minority student, is well served by receiving special treatment based on race or ethnicity." …

In another article Jackson penned for the Review during her senior year, entitled "How I Survived Stanford Without Entering the Women's Center," she condemned feminism on campus.

"In today's society, women have the same opportunities as men to advance their careers, raise families, and pursue their personal goals," she wrote. "College women who insist on banding together by gender to fight for their rights are moving backwards, not forwards."
Also seemingly disqualifying: Jackson once "provided editorial assistance" to Mises Institute co-founder Murray N. Rothbard and "wrote two papers analyzing his theories."
Rothbard, according to George Mason's Bryan Caplan, was "about as fringe as you could be and still be a tenured professor."
But perhaps Jackson's greatest "sin" is that she wrote a book in 2005 about the sexual assault allegations against former President Bill Clinton. Compounding that, she helped arrange for several of Clinton's accusers to attend the second 2016 presidential debate … and even sat among them.
MORE: Educators hypocritically rip Betsy DeVos after crying for 16 years about massive federal meddling
MORE: Education Secretary DeVos requires costly security measures
Like The College Fix on Facebook / Follow us on Twitter
IMAGE: Shutterstock