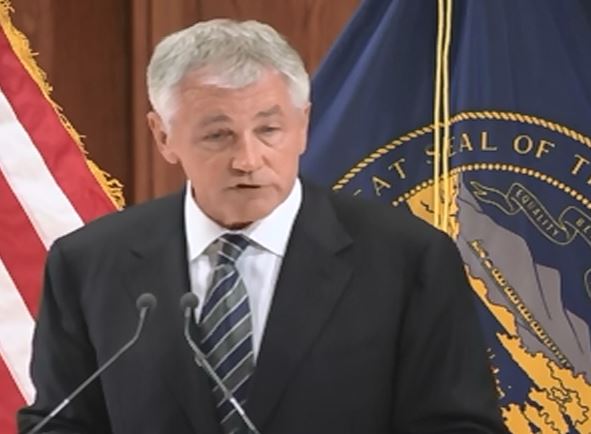 It's the bad joke that's quickly going viral.
Defense Secretary Chuck Hagel spoke at his alma mater the University of Nebraska-Omaha on Wednesday and, when a professor of Indian descent sought to ask a question, Hagel quipped: "OK, so who has a — way up in the back there. You're not a member of the Taliban are you …"
Dead silence, followed by: "Mr. Secretary, I'm Robin Gandhi. I'm an assistant professor at UNO."
Fox News reports:
George Little, Hagel's spokesman, issued this statement:

"Following a question related to the Taliban, the Secretary made an  off-the-cuff joke before the next questioner was called or selected at an  appearance at the University of Nebraska at Omaha. Absolutely no slight toward  any individual in the audience was intended. That's the last thing the Secretary  would do under any circumstance, in this or any other setting. He didn't know who would be called next to pose a question."

Margery Beck, a reporter for the Associated Press who was present that night, told Fox News in a brief phone interview that in fact Hagel's Taliban comment was directed at her.

It's unclear from video taken of the speech if that is true or not.

… The controversy comes at a delicate time for the administration, which committed this week to peace talks with the Taliban.
Click here to Like The College Fix on Facebook  /  Twitter: @CollegeFix