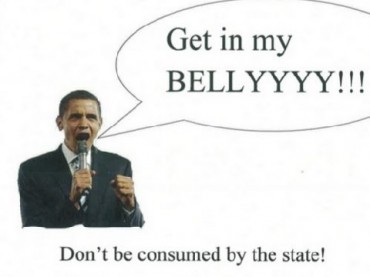 Remember the Utah university that forbid students from posting flyers that lampooned George W. Bush and Barack Obama because the flyers "mocked individuals"?
It proved costly for Dixie State, which is not only shelling out money to resolve a lawsuit by three Young Americans for Liberty activists who were denied the right to post the flyers, but changing a slew of its policies, the Foundation for Individual Rights in Education says:
As part of today's settlement, Dixie State agreed to revise the campus policies targeted by the lawsuit to meet First Amendment standards. These include the university's unconstitutional flyer approval process, posting policies, club event policies, and "free speech zone" policy. The university has also agreed to provide training to administrators about the campus' new speech policies and pay $50,000 in damages and attorney's fees.
It's the latest victory for FIRE's Stand Up for Speech litigation project, which has yet to lose a case against a school for violating students' speech rights. Dixie State was very firm in keeping speech geographically limited:
On another occasion, a Dixie State administrator decided that the YAL group's "free speech wall" event would have to take place in the university's unconstitutional "free speech zone," comprising roughly 0.1 percent of campus. Neither the student-plaintiffs nor other administrators knew the free speech zone's location, and it was not specified in any published university policy.
FIRE said Dixie State has been clamping down on students since at least 2013 when it "refused to recognize social fraternities or clubs that used Greek letters in their names," only responding in earnest when it got sued this spring.
Like The College Fix on Facebook / Follow us on Twitter