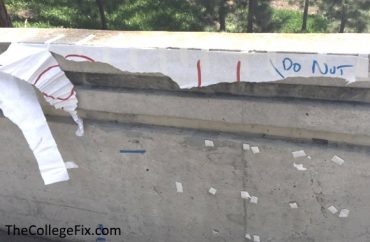 Dozens of posters advertising a campus talk that will take a critical look at the alleged rape epidemic at universities and the widely touted claim that one in five female students are the victims of sexual assault have been torn down.
The vandalism took place at UC Irvine — the same campus at which a screening last spring of a film questioning the assault on free speech was halted after someone maliciously pulled the fire alarm.
In this month's case of apparent censorship, the talk — "Campus Rape Hysteria: False Stats and the Assault on Due Process" — is scheduled for 7 p.m. Feb. 23 at the Southern California public institution and hosted by the Conservative Student Union at UCI.
"We put up about 15 posters last week, only one survived," co-organizer Nick Gallo told The College Fix via email, adding most were torn down within 24 hours, and some within 90 minutes.
"Between last night and this afternoon, exactly 19 went up," Gallo added, noting the posters are large, some as big as 3 foot by 5 foot. "All but two torn down."
Gallo said they put up more posters in response. Meanwhile, almost all the flyers posted around campus have been torn down too, about 40 in total.
But organizers fought back with new posters that declared: "Dear Defacers and Vandals: STOP tearing our posters down," "Put your biases and assumptions aside and come talk to us, listen, and participate in the Q&A," and "No More Games! Thank You. The Conservative Student Union."
MORE: Vandals destroy flyers on campus talk opposing trigger warnings, victimhood culture
The campus talk will be led by Andrew Cavarno, a recent UC Santa Barbara graduate and self-described progressive with some libertarian leanings. Cavarno gave a similar talk at UC Santa Barbara in May 2016.
At the time, he attempted to get feminist professors, student activists and anti-rape advocates to debate him publicly. Despite dozens of invites, all refused.
In an email to The College Fix, Cavarno said he faces a similar situation at UC Irvine.
"The feminist studies department and student activist groups we reached out to declined to participate again (of course), claiming that 'student safety is not up for debate,'" said Cavarno (pictured).
According to the Facebook event page for the UC Irvine talk, Cavarno will describe "the methodology used to arrive at the '1 in 5' number, presenting results from studies finding lower rates, and arguing that the rate of sexual assault on campus, though not perfectly known, is much lower than 1 per 5 women."
"Cavarno will argue that the hysteria caused by the '1 in 5' claim has forced universities to implement procedures for investigating and adjudicating allegations of sexual assault that are extremely unfair to the accused," it continues. "Cavarno will analyze typical campus procedures, highlighting aspects that infringe upon the basic due process rights of the accused, and present a few of the many heartbreaking examples of innocent students who had their lives ruined by 'guilty' findings on campus."
"Cavarno will argue that police and professionals in our legal system, not Title IX officers, should investigate and adjudicate allegations of sexual assault."
MORE: Fire alarm pulled during anti-PC documentary screening at UC-Irvine, canceling event
LIKE The College Fix on Facebook / Follow us on Twitter