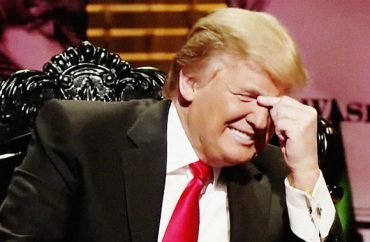 President Donald Trump promised to "drain the swamp" and when it comes to liberal college graduates, it looks like he's having some success.
Some students graduating this weekend from George Washington University, located in Washington D.C., say they aren't pursuing jobs in the federal government because of Trump, The GW Hatchet reports.
From the article:
As seniors prepare to graduate on the National Mall Sunday and enter the workforce, some students interested in politics who initially planned to kickstart their career in a Democratic Hillary Clinton presidential administration are now moving away from work in the federal government – and moving from the District altogether.
One of the seniors is Celeste Aguzino, who interned in Obama White House and originally planned to find to a job in the federal government upon her graduation. But with Trump's victory, she's heading home to Illinois.
"I don't know even if my voice would be in the room," she told The Hatchet. "I don't know how significant it would be or if it would be listened to, even as someone in an entry-level government job."
Senior Jen Sherman previously interned with the Department of Education, but took a job in the private sector.
"Basically, I saw that Trump's priorities were not really in the kinds of departments – even if I wasn't really working on major political issues – that I was interested in, which means that I thought there would be very few hiring opportunities in those departments," she said.
While it's clear some students are purposely straying clear of the Trump administration, the university's assistant provost for career services told the campus newspaper "it is too early to tell whether fewer members of the Class of 2017 are heading to work in the federal government."
But the fact that some students are leaving because of Trump may not be surprising given the way some at the university responded to his victory:
In the days following the election, many students across campus were in shock – gathering for a "group cry" and protests. Both students and faculty were concerned about the political shakeup Trump would bring to D.C. and questioned their career paths.
MORE: Profs ponder a Pence presidency — and it's about what you'd expect
Like The College Fix on Facebook / Follow us on Twitter
IMAGE: YouTube