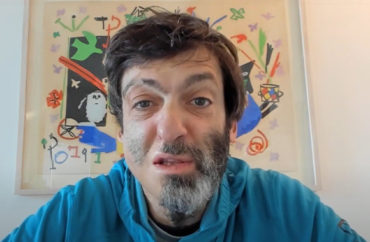 A Duke University researcher who wrote a New York Times bestseller about dishonesty is now facing accusations he used faked research in a landmark study about truth-telling, according to Buzzfeed.
In 2012, Dan Ariely issued a study purporting to show that if people were forced to sign a statement saying "I promise that the information I am providing is true" at the beginning of a form, they were less likely to lie while filling it out. Ariely, a psychologist and behavioral economist at Duke, said he used data provided to him by an insurance company to reach his study's conclusions, which have been adopted by businesses and governments around the world.
But last week, a group of researchers at the blog Data Colada contested Ariely's conclusions, writing they believed one of its primary experiments was faked.
According to the anonymous bloggers, the data "beyond any shadow of a doubt," underwent at least two forms of fabrication. They say they contacted one of the researchers involved in the study, who confirmed their fears.
"We have worked on enough fraud cases in the last decade to know that scientific fraud is more common than is convenient to believe, and that it does not happen only on the periphery of science," the authors wrote.
In subsequent tests, Ariely and the other researchers could not replicate the findings in the 2012 study, but he told Buzzfeed the data provided to him was not faked.
"If I knew that the data was fraudulent, I would have never posted it," he said.
It wasn't the first time Ariely's conclusions have been contested. Outside researchers were unable to replicate the results of a 2008 study of his that purported to show people cheated less when forced to recall the Ten Commandments before taking a test. In 2010, Ariely told NPR that dentists often disagree if a cavity exists based on an X-ray image, although the company whose data he relied on, Delta Dental insurance, said it didn't even collect that data.
Perhaps most embarrassing for Ariely is the fact that he has staked out a career studying dishonesty, releasing the book The (Honest) Truth About Dishonesty: How We Lie to Everyone — Especially Ourselves in 2013. Publisher's Weekly called the book "Captivating and astute. … In his characteristic spry, cheerful style, Ariely delves deep into the conundrum of human (dis)honesty in the hopes of discovering ways to help us control our behavior and improve our outcomes."
Further, Ariely became a regular on the Ted Talk circuit and parlayed his research into a Wall Street Journal advice column.
Read the full Buzzfeed report here.
MORE: Canadian university researchers: Bullshitting is a sign of intelligence
IMAGE: Dan Ariely/YouTube
Like The College Fix on Facebook / Follow us on Twitter