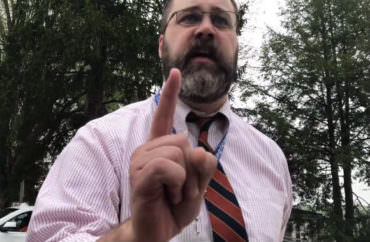 The now-former assistant principal of a Pennsylvania magnet school who was caught on video berating a pair of pro-life teenagers during dismissal time claims he's been subjected to harassment since his resignation.
Zach Ruff had confronted the teens outside of the Downingtown STEM Academy back on April 21 telling them they "can go to hell or they (the fetuses) ought to," and "go get a freakin' life."
"They're not children! They're cells!" Ruff continued, followed by "GO HOME!" and "I don't give an (expletive) what Jesus tells me about what I should and should not be doing."
The district superintendent deemed Ruff's behavior "illegal" and he was placed on leave. He eventually resigned.
According to Philly.com, Ruff and his husband claim they've been subjected to attacks on social media, "been photographed by strangers, and [have] watched cars drive slowly past their house."
In addition, last week "someone banged on their front door and windows hard enough to shake pictures off the wall."
Ruff and husband Logan avoid going out locally, opting to eat out and shop in nearby Delaware or Philadelphia. They say they're "not looking for anything from the district" nor "anything from anybody."
"We'd like to be left alone, so we can heal and move on."
During a two-hour interview, both teared up frequently, Ruff verging on sobs. He said he takes several medications, sees a therapist twice weekly, and rarely leaves the house without Logan. …

Mostly, they want people to know that Ruff has suffered from anxiety and depression since he was a teenager growing up in Vermont, where, he said, he was abused at home, was hospitalized for two months after attempting suicide at 17, then set out on his own. …

Ruff said that in the months prior to the incident, his job at STEM had become more stressful. Once he even suffered an anxiety attack over a computer glitch that occurred while students were taking the Keystone Exams, and wound up on the floor in an office. Afterward, he said, headmaster Art Campbell, whom he had considered a friend, remarked in front of other staff that Ruff should wear Xanax around his neck like a candy necklace.

He was given increasingly more responsibility without any clear direction and  even sought another job in the district, he said.

On the day of the protests, Ruff said, the principal was away on a school trip and Mike Sheehan, dean of curriculum and instruction, asked him to deal with the situation. Sheehan also put in a call to assistant superintendent Robert Reed for guidance.

"I was there to protect the students," Ruff said. "I wanted them [the protesters] to engage with me instead of the students."
Ruff says he learned Sheehan had received word that the pro-life teens were permitted to protest, but "wonders why no one came outside to tell him that, or to intervene when they saw the confrontation escalating."
Two hundred applications sent out last summer did not land him a new teaching/administrative gig, and now Ruff wonders if his career in education is at an end.
MORE: School official who screamed at pro-life teens acted illegally
MORE: Principal who screamed at pro-life teens supported by 50K-signature petition
IMAGE: YouTube
Like The College Fix on Facebook / Follow us on Twitter