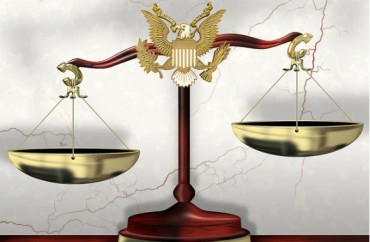 Waldron Mercy Academy in Merion, Pennsylvania (near Philadelphia) is embroiled in controversy for its recent firing of a lesbian teacher.
Margie Winters, the school's director of religious education, had been teaching at Waldron Mercy for eight years.
While at first it may seem like a clear-cut instance of a religious institution's First Amendment right to hire — associate — only with those who abide by its ideology, Winters claims she made the principal of the school aware of her sexuality — and the fact that she was married to another woman — at the time of her hiring.
But some parents found out about Winters' relationship, with one sending a complaint directly to the Archdiocese of Philadelphia.
The Philadelphia Inquirer reports:
Winters refused a request to resign and was fired in a June 22 letter from the school.

Winters said she thought the school's connection to the archdiocese played a role in that decision. The school, she said, worried that its "Catholic identity would be in jeopardy."

[Principal Nell] Stetser said in a statement that she could not discuss personnel matters.

"The primary consideration that guided my decision-making process was to sustain the Catholic identity of Waldron Mercy Academy," Stetser said.

Ken Gavin, director of communications for the archdiocese, said it played no role in Winters' firing. "There has been no discussion whatsoever about revoking the ability of the school to identify itself as Catholic," Gavin said.
Complicating matters further is the local township's anti-discrimination ordinance, which says that religious institutions are exempt "unless they are 'supported in whole or in part by government appropriations.'"
State Sen. Daylin Leach, a Democrat who represents the school's area, noted that Waldron Mercy lists on its website that it has received more than $270,000 in the last two years from the state's Opportunity Scholarship Tax Credit program.

Waldron's website also said 70 students have attended since 2005 under a similar state program, the Educational Improvement Tax Credit.

"So they've received a good bit of money from the State of Pennsylvania," said Leach, a lawyer. He said that state money might override the religious exemption for the township ordinance.
It's appropriate that Leach says "might" as those tax credits are given to individuals to attend the institution they wish — they're not given directly to the Church.
Some argue that such a method of "public funding" for K-12 religious schools is different from, say, funds via the GI Bill being used for (religious) higher education because lower ed institutions are "suffused with religion."
But UCLA law professor Eugene Volokh points out that this "difference" is rather spurious.
Last evening, roughly 200 people met to discuss Winters' ouster.
Like The College Fix on Facebook / Follow us on Twitter
IMAGE: Donkey Hotey/Flickr