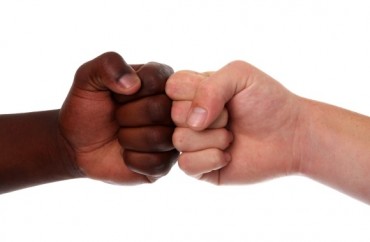 This is the third in a series reporting on a 900-page document dump obtained by The College Fix through a public records act request to Evergreen State College.
In the aftermath of racial protests at Evergreen State College, President George Bridges said in an email it was silly of him "to even imagine a post‐racial society," reflecting on the recent events that left his institution in turmoil, documents recently obtained by The College Fix through a public records act request show.
Bridges made the comments in a June 3 email sent in reply to a message of support received from his former colleague Robert Crutchfield, a sociology professor at the University of Washington. Bridges formerly taught sociology at the University of Washington.
"The politics of this struggle are fascinating," Bridges wrote. "To some I am the authoritarian president dictating what faculty must think and do solely for the purpose of increasing the success of students of color, to others I am the Shaun [sic] Spicer of student protesters, and to others I am just challenging a college to be more focused on the needs of a widely diverse student body. Makes for interesting self‐reflective discussions."
His comments came amid a tumultuous time at the public university. In late May, angry student demonstrators confronted and cornered a white biology professor, Bret Weinstein, over his refusal to participate earlier in the semester in a "Day of Absence" event in which whites were asked to leave campus for a full day.
Students later charged the administration of racism and issued a list of demands. Bridges described student agitators in his email as "loud." Bridges ended up conceding to most of the demands, including mandatory multicultural training for campus police officers and employees, establishing an equity and multicultural center and hiring a full-time coordinator of the school's Trans & Queer Center.
The unrest at the Olympia, Washington college made national headlines and Bridges faced intense scrutiny for his handling of the situation. Numerous emails from upset parents, alumni and others unaffiliated with the school flooded his email inbox during the upheaval.
Threats forced the school to shut down for multiple days in early June. Following the initial campus closure, Bridges told Crutchfield he was "OK."
"Although I have never before experienced the withering assault of neo‐con and white supremacist hate mail and voice mail messages," he said. "And witnessing the cruel side of social media use first hand has proven sobering. How foolish of me to even imagine a post‐racial society!"
He told his former colleague that Evergreen faced a challenge regarding Washington legislators "who choose to attack the school and me for 'capitulating' to demands by students."
"I am now working the aisles," he said.
During the turmoil on campus, two state lawmakers proposed legislation that "would phase out state funding for The Evergreen State College and ultimately sell the institution."
The documents obtained by The College Fix show that Bridges was indeed attempting to stir up support for Evergreen amid the scrutiny from state lawmakers.
In an email sent on May 31 to the presidents of Washington's public universities, Bridges provided an update on the situation at Evergreen and asked his counterparts to speak highly of his institution.
"My only request is that if questions arise about Evergreen from legislators that you pass on a positive word if you are so inclined," he wrote.
MORE: Evergreen State upheaval felt like some sort of warzone, scholar says
Like The College Fix on Facebook / Follow us on Twitter
IMAGE: Shutterstock