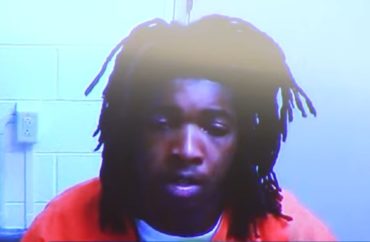 Made a new claim about fear of a weapon during the trial
A Virginia jury found Isimemen Etute not guilty in the death of Jerry Smith.
Etute (pictured) had oral sex with Smith in April 2021 and Smith rewarded the football player with a $50 gift card. The two met on Tinder, though Smith presented himself as a woman. Etute later wondered if Smith was actually a man and went to his apartment to see along with two teammates who waited outside.
The second encounter with Smith ended in his death, after Etute beat him and stomped on him, leaving him to die on the floor exactly one year ago today.
The Montgomery County jury acquitted Etute after hearing, in contradiction to what the football player told police last summer, that he feared Smith had a gun.
ESPN reported:
During a police search of the apartment, a knife was found between Smith's mattress and box spring, but Etute testified he never saw the knife, and he did not mention any concerns for his own safety during his initial police interview on June 2, 2021.

…Etute testified that he stomped on Smith's face as he departed the apartment, leaving a bloody shoe print on Smith's cheek in the process. Security camera footage in the apartment showed all three players leaving quickly, with Etute having spent only three minutes inside Smith's apartment. Etute testified that Smith was still breathing when he left, and the state's forensic detective testified the entire attack likely took only a few seconds.
"Upon confronting Smith, Etute testified that Smith grabbed at Etute's genitals, causing Etute to strike Smith in the face with the back of his hand," ESPN reported. "Etute testified that he then believed Smith reached for a weapon under his bed, causing Etute to strike Smith with a fist several more times."
"In closing arguments Friday, the prosecution said Etute's recollection of events did not include a reach toward the area where the knife was hidden until after he'd been charged with murder," ESPN reported.
Federal investigators have considered hate crime charges against Etute, though none have been filed.
MORE: Murderer of UC Berkeley student receives 25 years in prison
IMAGE: WAVY 10/YouTube
Like The College Fix on Facebook / Follow us on Twitter