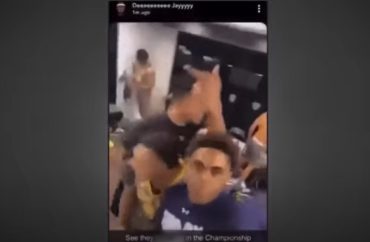 Four players were seen in a social media video swearing and mocking University of Akron
Four basketball players for Kent State University were punished with a loss of playing time during Saturday's game against University of Akron in response to a video of them trash talking their opponent.
The trash talking occurred in the locker room Friday night after Kent State beat Ohio University.
Yahoo Sports reported:
DJ Johnson, Malique Jacobs, Cli'Ron Hornbeak and Julius Rollins were all suspended for varying lengths of time for posting and/or participating in the video, which was posted on Friday night sometime after Kent State's victory over the Ohio Bobcats.

Johnson was suspended indefinitely, while Jacobs, Hornbeak and Rollins were all suspended for the first half of the tourney final against Akron.
The video, seen below, included rapping a song about Akron's top player, Ali Ali.
"F*** Ali, Ali the four players rap," in a video posted to DJ Johnson's Snapchat account.
"F*** number 2, f*** number 4," Johnson rapped, in reference to Akron players Greg Tribble and Bryan Trimble.
"I'm disappointed this occurred," Mid-American Conference Commissioner Jon Steinbrecher said according to Sports Illustrated. "This does not represent the values of Kent State or the Mid-American Conference. However, I commend the leadership of Kent State for being proactive in addressing this matter and collaborating with my office to bring this situation to resolution."
Akron defeated Kent State on Saturday to win the MAC championship title and earn a spot in the March Madness tournament.
MORE: College quarterback offered $1 million to transfer schools
IMAGE: Expo/YouTube
Like The College Fix on Facebook / Follow us on Twitter