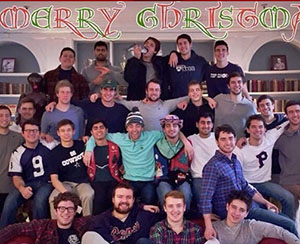 It's not a great time to be a leader in the national chapter of a fraternity. From "exaggerated" dildo-waving to ludicrous tales of gang rape by local chapters, frats have no shortage of outrages to answer for.
And many of them seem to be in the mood for kicking ass and taking names.
That's not good enough for student protesters at Clemson University, who are demanding that the school bring criminal charges against a frat for a gang- and rapper-themed "Crip'mas" party, The State reports:
The Sigma Alpha Epsilon fraternity's national chapter suspended all of its Clemson chapter's activities indefinitely, and several of the Clemson frat's leaders resigned after the December incident. …

But students Wednesday said the university hasn't done enough to show it's willing to change a culture that they say is hostile toward minorities.

The first grievance called [President Jim] Clements' response to the "Cripmas" party "woefully inadequate and insecure."

Students called for Clements to seek criminal prosecution for hateful speech or actions committed by members of the Clemson University community.
You see, Clements only took actions that don't punish private organizations for their speech: forming a "diversity council," holding monthly "diversity lunches" and starting a lecture series on "leadership and diversity."
It's not news by now that such demands invariably are paired with calls for more money for multicultural programs, diversity curricula and minority faculty. These might be fine ideas, but in response to Instagram photos from a boorish party?
The students also want a multicultural center as a "safe space for under-represented groups." If minority students are being attacked or harassed on campus – all they mention is Yik Yak – it doesn't show up in their list of grievances.
White kids have wanted to be rappers for decades
As a rapper might say, I'm gonna drop some knowledge.
When I was growing up in the 1990s, dressing like rappers was the typical white suburban kid activity. Before I wanted to be a grunge musician, I wanted to be Dr. Dre, now the first rap billionaire.
Perhaps these students have never heard of Eminem, Dr. Dre's protege, but certainly they've heard of Macklemore, who himself seems to intentionally resemble Vanilla Ice, who along with Mark Wahlberg a.k.a. Marky Mark tried to sound like their black counterparts before gangsta rap obliterated their sub-genres.
You evangelical kids might remember dc Talk, which is two-thirds white, did the same thing until Jesus Freak, and even that had a few rap verses. (Shameless plug: Christian rapper MG! the Visionary. Transparemcee is a classic. He played Seattle Pacific. I may have been the only white kid in the crowd.)
Not the place of a university to punish 'distasteful' expression
These Clemson rabble-rousers could learn a thing or two from Alec Ward, a columnist for the Daily Pennsylvanian at the University of Pennsylvania.
You may remember Penn's Phi Delta Theta chapter drew a world of hurt for its Christmas card, which featured a sex doll allegedly resembling Beyonce. Last week that frat got suspended by – guess who – its national chapter.
Ward wrote this week that "the seemingly mundane details matter" in judging whether this was the right decision:
It is especially critical — in forming an opinion about whether the probation is "fair" — to note that the probation and mandatory programming, which were imposed upon the chapter, were imposed by the Phi Delta Theta fraternity and not by the University of Pennsylvania. This matters because universities have an at-times-enforceable obligation to, in the name of academic and intellectual freedom, refrain from punishing unpopular, distasteful and offensive expression which does not rise to the legal definition of harassment. … Private membership organizations, such as fraternities, on the other hand, have no such obligation to abstain from adopting institutional philosophies, and may profess certain institutional values which they may sanction members for violating or even require that members actively affirm.
As Ward notes, it would be "reprehensible" if the national chapter suspended the Penn chapter primarily for the sake of public relations – to "mollify critics" rather than enforce its stated ideals. But ultimately, he says, it's Phi Delta Theta's call alone.
If only young activists were so eager to use their powers of persuasion, rather than the power of the state.
h/t Campus Reform
Like The College Fix on Facebook / Follow us on Twitter