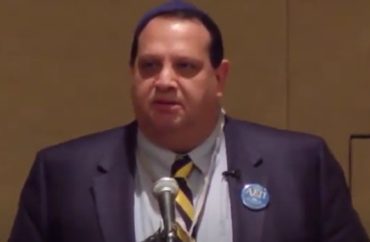 An executive with a Jewish fraternity who was previously pressured by alumni to resign from Turning Point USA's advisory council has resigned as CEO of Alpha Epsilon Pi Foundation
"Andy Borans, the longtime executive of AEPi whose affiliation with Turning Point USA sparked controversy at the Jewish fraternity, is stepping down," the Jewish Telegraphic Agency reported.
Borans (right) led the charitable fundraising arm of the fraternity. A spokesperson for the fraternity denied that the resignation had anything to do with the prior controversy.
"This has been in the works for months," Jonathan Pierce told JTA. "Andy is an amazing guy. He's been one of AEPi's stalwart leaders for more than 40 years. I'm looking forward to seeing what happens in his next act."
The CEO's contract is set to expire in May, Pierce said, and Borans had decided last year to leave.
In January, alumni of the fraternity began pressuring Borans to resign from either TPUSA's advisory council or from his position at the foundation. Borans resigned from his involvement with the free-market conservative group, where he had been asked to help with outreach to Jewish students.
Alumni pointed to the involvement of Turning Point Action, the political advocacy arm of the conservative group, in bringing students to D.C. on January 6. Borans had no involvement with the 501(c)4 group and condemned the actions of violent protesters.
"I have left the advisory board of Turning Point. I have been blessed in my life to be a member of dozens of organizations and always want to experience new ones as well," Borans wrote in his January 21 Facebook post.
MORE: University appears to ignore request to ban TPUSA chapter
IMAGE: Kinushashluchim/YouTube
Like The College Fix on Facebook / Follow us on Twitter