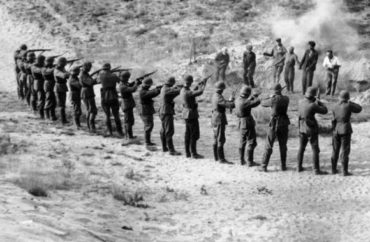 Student supporters promote subjective perceptions over 'ethnocentricity'
Fifty years ago this month, the shootings of four unarmed student Vietnam war protesters at Kent State University shocked America. In the aftermath, a mysterious Eastern European professor became a cause celebre for Kent State student activists who were fighting a postmodern culture war against "ethnocentricism" and meritocracy in the American academy.
This is the untold story of one man's secret journey, from Nazi Army executioner in World War II-era Germany to "faculty peace marshal" at the first annual commemorations of the Kent State shootings in 1971.
When the man who called himself Michael Rogers died at age 81 in an Akron hospital in April 2005, the story of his life might have read like the quintessential American immigrant dream come true.
Born in the bleak, impoverished Russian provincial town of Kirov, more than 600 miles east of Moscow, at the start of Stalin's reign of terror in 1924, Rogers had come a long way.  After he arrived in the United States via Argentina, Rogers quickly climbed the social ladder. Despite a precarious start to his career, he eventually became a senior professor of Russian language and literature at Kent State.
In the late 1960s and early 1970s, the Ohio public university was a hotbed of campus activism, featuring some of the most radical student politics in the country.
MORE: Kent State mulls whether 'You need Jesus' is hate speech
Michael Rogers was hired to teach Russian in fall 1967. In May 1970, state troopers shot dead four unarmed students who had been protesting against the Vietnam war, an incident that symbolized a turning point in America's bitter culture war over foreign policy and the draft. A year later, at the first annual commemorations for the victims, Rogers distinguished himself as a "faculty peace marshal."
Rogers himself became a figurehead for student activism in 1972 when university leadership wanted to terminate the contracts of Rogers and another language lecturer. The administration cited declining student interest in Russian classes and a desire to hire lecturers who, unlike Rogers (pictured below), had duly completed their doctorates.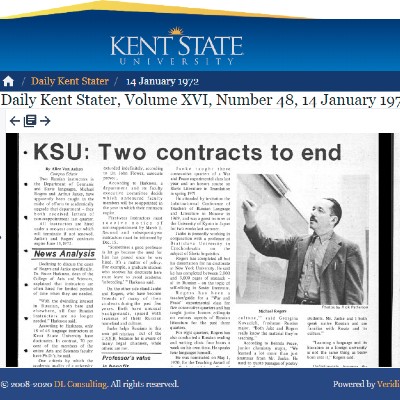 Students rallied against the decision, invoking arguments that foreshadow present-day academic culture wars. Praising Roger's feel-good ability to treat the "student as an individual in this mega-university", they implied that subjective student perceptions should be as much a part of hire-and-fire decisions in academia as formal qualifications and standards.
Known in the previous decade for reportedly offering his own family's burial plot to Islamist Boston Bomber Tamerlav Tsarnaev, Paul Keane was then an influential student activist at the university. In this student press, Keane complained bitterly about the decision to fire Rogers. He accused university leadership of denying students access to the "subtle riches of minds shaped by another culture" by promoting "ethnocentricity" with the decision to fire Rogers. (There is no known evidence that Keane or any other student champion of Rogers' cause were aware of his Nazi Wehrmacht past.)
After nearly 1,000 students and 100 faculty members petitioned the administration, the university retained Rogers and then offered him a permanent, tenured job. It was a sign of the professor's huge popularity with students at the time that he twice won Kent State's coveted "Distinguished Teaching Award" in the 1970s. Remaining politically active, Rogers campaigned for animal rights, demanding a ban on seal hunting, which he called "man's terror" against animals.
Michael Rogatchevsky, Oberleutnant
Behind the picture-perfect image of Rogers' academic success, however, lay a murderous secret dating back to the most chaotic parts of the Second World War.
While millions of courageous Russians paid the ultimate price by fighting in partnership with the Western Allies to defend their fatherlands from Nazi occupation, Rogers was fighting on the side of the Nazis. After defecting from the Soviet Red Army in 1943 to the Germans, he became an officer in a special detachment of Adolf Hitler's Wehrmacht. This collaborationist, so-called "First Russian National Army of the German Wehrmacht" was headed by the self-proclaimed "General" Boris Holmston-Smyslovsky.
A former Tsarist officer with an interest in occultism, Holmston-Smyslovsky had joined the German army long before the Second World War, and fantasized about creating a new Russian state with German military help. On his chest, Holmston-Smyslovsky proudly wore an Eagle-and-Swastika medal, personally awarded to him at Hitler's notorious Wolf's-Lair Führerhauptquartier.
Despite this, Holmston-Smyslovsky claimed after the war not to have been an ideological Nazi, even claiming to have rescued Jews from the Warsaw Ghetto. This claim has not been recognized by Vad Yeshem, Israel's Holocaust Memorial, which bestows the title "Righteous Among Nations" upon those whom it determines saved Jews during the Second World War.
MORE: Judge slaps down Kent State for using heckler's veto against gun rights event
In fact, the legendary Polish-Jewish resistance fighter Stanislaw Aronson and others serving in the Polish underground resistance army attempted to kill Holmston-Smyslovsky in 1944 on the streets of Warsaw. The daring attempt failed, leaving two Polish resistance fighters dead.
Due to internal distrust within the Nazi Wehrmacht, Holmston-Smyslovsky's units were not commonly used for front-line combat, but were instead deployed in intelligence and anti-insurgent warfare operations in occupied Russia and Ukraine.
As Germany headed rapidly toward total defeat in 1945, Holmston-Smyslovsky became desperate to avoid capture by fast-advancing Western allied forces and the murderous vengeance his men would certainly have faced if handed over to the Soviets. He fled with the remnants of his forces to the neutral principality of Liechtenstein, an alpine mini-state sandwiched between Austria and Switzerland, in the final days of the Second World War. Once there, Holmston-Smyslovsky's troops were interned and his formation disbanded.
Under interrogation by agents of Liechtenstein's security police, Michael Rogers, then still known under his Russian name Michael Rogatchevsky, freely admitted his service as an Oberleutnant (senior officer) in Holmston-Smyslovsky's Wehrmacht forces. He recounted deserting from the Soviet Army together with more than two dozen other men, in response to dangerous punitive missions they were given to fulfill as a punishment for previously failing to follow what he said were unrealistic Red Army orders.
Rogers explained that he had volunteered to serve in Holmston-Smyslovsky's formation due to the bad conditions in the punitive camps in which the Germans incarcerated him as a prisoner of war after his desertion from the Red Army. He also claimed that prior to the Second World War, he had spent time incarcerated in a Soviet gulag and that his father had been shot in Stalin's purges.
While neither Rogers nor his father appears to be listed in a three million-name database of victims of Soviet repression under their stated names, it is impossible to independently assess the veracity of this claim because not all victims of Stalinist repression have been identified by name.
One story for Kent State, another for historians in Liechtenstein
Michael Rogers also made an even more chilling admission to Liechtenstein's security police. At the end of April 1945, just five days before entering Liechtenstein, he had headed an execution squad of volunteers that shot dead two imprisoned members of their own formation near the alpine Bavarian village of Oberstaufen.
Just before their executions, the two men had made a desperate last-ditch escape attempt but had been recaptured with the assistance of German guardsmen. They were then shot in an open field in front of roughly 100 spectators. The two executed soldiers had been accused of being Soviet spies and were ordered executed after an apparent drumhead court-martial by Holmston-Smyslovsky's command staff.
At the time of the executions, Holmston-Smyslovsky's formation was no longer engaged in the imploding Nazi German war effort or in any kind of combat operation. He and his men were simply running away from advancing American and French forces, toward the Liechtenstein border.
Thus, there was hardly a legal basis for these cruelly pointless executions under military law or necessity, making them probable war crimes. Rogers failed to express any regret for the executions while under interrogation by Liechtenstein's security police.
There is no record of Michael Rogers ever acknowledging his Wehrmacht past, or role leading the executions, to the Kent State community. It's likely that he actively lied about his past.
MORE: Kent State's 'West Side Story' canceled due to 'incorrect' race castings
In a 1991 interview, Rogers told an obviously concocted sob story about how he was captured by German Schutzstaffel soldiers after being knocked unconscious by an artillery shell. He claimed to have desperately persuaded the soldiers not to kill him by reciting a kids' poem in German.
In the interview, Rogers makes no mention of his service in the Wehrmacht, claiming instead to have been a witness of Holocaust atrocities while interned in German camps. He billed himself as someone who had escaped "from both the Russians and the Nazis during the second world war," an unlikely description for someone who had in fact been an officer in Hitler's Wehrmacht until the very end of the war.
However, Rogers openly acknowledged his real past to historians in Liechtenstein who were producing a small-circulation, mostly German-language book about Holmston-Smyslovsky's internment there. He even sent them a photo of himself teaching in a Kent State seminar room.
"Professor Rogers passed away in 2005," Eric Mansfield, executive director of media relations at Kent State, told The College Fix when presented with this evidence of Rogers' past in October 2018. "The university had no knowledge of these allegations while he was employed here".
Colin Cortbus is a postgraduate student in conflict and security studies in West Africa, and a freelance journalist with bylines in outlets including The Sunday Times, The Sunday Mirror and Berliner Kurier. He speaks fluent German and English and conversational French, and reads the Cyrillic alphabet. Cortbus previously took part in a humanitarian summer volunteering program with the human rights organization Memorial, which centrally curates the database of victims of Stalinist repression mentioned in this article.
MORE: Kent State 'ally' training says don't assume heterosexuals are heterosexual
IMAGES: Bundesarchiv, Bild 101I-212-0221-07 / Thiede / CC-BY-SA 3.0, Kent State University
Like The College Fix on Facebook / Follow us on Twitter