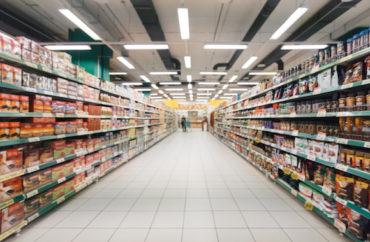 Outbreaks arise from 'people being closer together over a longer period of time,' he says
A German professor who has studied coronavirus outbreaks in his country says that the threat of contracting COVID-19 while out grocery shopping has been vastly overblown, and that shoppers can by-and-large go to supermarkets with little risk of catching the virus.
Hendrik Streeck, a virologist at the University of Bonn, studied the coronavirus outbreak that occurred last month in Heisenberg, Germany, to determine how virulent the disease actually is. Heisenberg has been among the hardest-hit regions in Germany, though it has a relatively low death rate from the disease.
Business Insider reports Streeck, per his investigations, told media last week that "most cases of coronavirus in Heinsberg originated from people being close together for a significant period of time, and not from touching surfaces with virus particles on them."
That conclusion contradicts broad popular opinion that the virus spreads easily from surface-to-human contact. The National Institutes for Health last month claimed that coronavirus "may remain on surfaces for days," leading to a significant uptick in sanitization and sterilization procedures in public places throughout the United States.
Streeck argued that the possibility of infection through surface contact and/or being in supermarkets is significantly lower than people have been led to believe:
Streeck [said] that though the virus could "live" on various surfaces for up to seven days, he believed there was little chance that someone could become infected via surfaces, contradicting both the Center for Disease Control and National Institute of Health guidelines.

Streeck posited that in order to contract the virus via a surface like a doorknob, "it would be necessary that someone coughs into their hand, immediately touches a doorknob, and then straight after that another person grasps the handle and goes on to touches their face," Streeck told reporters.

Instead, claims Streeck, his study found that: "There is no significant risk of catching the disease when you go shopping. Severe outbreaks of the infection were always a result of people being closer together over a longer period of time."
Though Streeck's claims offer significant hope that the virus is nowhere near as transmissible as earlier estimates, Heisenberg's District Administrator Stephan Pusch still said that the lockdown measures there were working and that the area had "avoided a huge disaster" in implementing them.
Streeck said his research should be used to inform lockdown "exit strategies," expressing his hope that government decisions in that regard are made "based on facts rather than assumptions."
MORE: Epidemiologist: Coronavirus could be 'exterminated' if lockdowns were lifted
IMAGE: Fascinadora / Shutterstock.com
Like The College Fix on Facebook / Follow us on Twitter