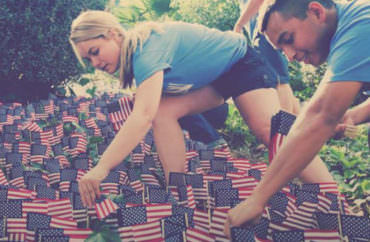 But you can drive by it in its mandatory location
Texas Gov. Greg Abbott believes victims of the Sept. 11 terrorist attacks should be remembered in a "place of honor" at Southern Methodist University.
SMU President R. Gerald Turner believes they are fine being remembered in the physical center of campus.
Abbott wrote a letter to Turner last week asking him to reconsider the university's decision to unilaterally reassign a "memorial lawn display" by SMU's Young Americans for Freedom to MoMac Park, which the student group claimed was "much less prominent" than its longtime location for the display, Dallas Hall Lawn.
The Republican governor said the 2,977-flag display deserved to be restored to its "appropriate and traditional place of honor" in front of Dallas Hall, because its central message "is about our nation united," The Dallas Morning News reports:
I ask that the 9/11 display not be relegated to a far corner of campus. It should be celebrated in its heart.
He alluded to SMU's motto, "World Changers Shaped Here," and implied the private university was failing its duty to educate students about "the importance of civil and civic participation" if it doesn't move the display back to Dallas Hall Lawn, its annual home since 2010.
MORE: 9/11 memorial banned from campus venue because of new 'triggering' policy
President Turner seized on Abbott's reference to "far corner" and the "heart" of campus, saying the governor was given "incorrect information" and insisting that MoMac Park was geographically the heart of campus and "the most prominent drive on campus."
Dallas Hall, by contrast, is "one of our northern-most buildings," the president said. He did not respond to earlier criticisms that the park gets far less foot traffic than the lawn, but he said the lawn needed to remain available for "University events, outdoor classes, studying and breaks between classes."
SMU's Young Americans for Freedom thanked Abbott for his support and accused Turner of calling them liars because they protested the forced relocation of their memorial to the physical center of campus from its "historic heart."
The chapter said there was no "more prominent place on campus" than Dallas Hall Lawn. It alluded to the administration's July revision of the policy on memorial lawn displays (revised again last week), saying SMU was "prioritizing sensitivity over honesty, freedom, and patriotism":
This particular argument is relevant to the larger conversation regarding free speech on university campuses across our nation. SMU has repeatedly mentioned protecting students from "triggering", "coercive", and "harassing" messages on campus. We have seen universities across the country implement many policies that restrict free speech and expression under the same pretenses. …

All of us, conservatives and liberals, stand united in our commitment to free speech because we know how important it is. We intend to continue to pressure our administration to allow our 9/11 memorial and other demonstrations of free expression on the lawn at the heart of our university. We would be very grateful for your continued support of our efforts.
MORE: College vandals trash 2,977 flags memorializing 9/11 deaths
Young Americans for Freedom Letter by Anonymous ovJgHA on Scribd
SMU forced the display off the lawn following a policy change meant to keep displays that are "triggering, harmful or harassing" away from high-traffic areas of campus. One SMU College Republicans leader told The College Fix he suspected the policy change was intended to keep annual pro-life cross displays off the lawn.
After an ideologically diverse array of student groups complained that the July policy squelched everyone's freedom of speech, the university apologized for the "poor wording" and revised the policy again – but still implied that the 9/11 memorial would constitute "coercion and harassment" if allowed on the lawn.
Read the Dallas Morning News story and the YAF letter to Abbott.
MORE: 3,000 pro-life crosses at SMU kicked down, threat to burn down display
MORE: University blocks 'unsafe' 9/11 memorial poster that shows terrorist acts
MORE: After national backlash, 9/11 memorial reinstated at UMinn
MORE: History prof rips down 9/11 'Never Forget' posters (VIDEO)
Like The College Fix on Facebook / Follow us on Twitter